Eight local schools received $30,000 each at the culmination of PartnerRe Ltd.'s successful Dollars for Hours project that pairs student volunteers with local charities on community projects.
At an event hosted by PartnerRe on Tuesdayy [Dec. 6] to celebrate and showcase the students' achievements, PartnerRe's President and CEO, Costas Miranthis and Junior Education Minister Senator Diallo Rabain congratulated the students on their hard work and thanked everyone involved for their contribution to the Dollars for Hours initiative.
In addition to supporting scholarships, the Dollars for Hours initiative is one of PartnerRe's major contributions to education in Bermuda.
"We believe that helping to maintain and improve the quality of education in Bermuda is the single most important thing we can do as a Bermudian company and this gesture is an important way we accomplish that aim," said a  spokesman for the Bermuda re/insurance giant.
"Dollars For Hours: Youth & Community in Partnership," now in its sixth year, has had more than 1,000 students from eight secondary schools give roughly 12,000 hours of hands-on support to local charities for a total donation of $1,240,000 to date.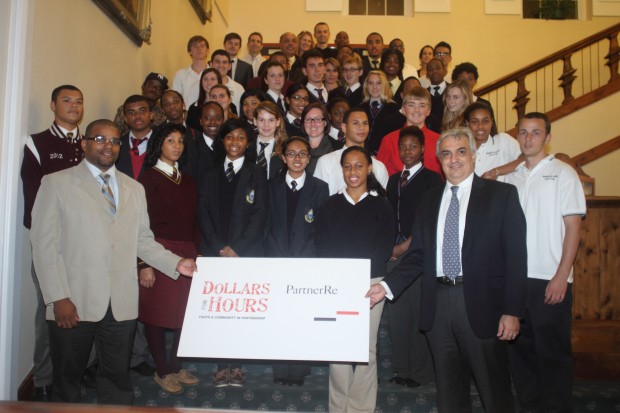 This year, the students, aged 14 to 18 successfully completed projects ranging from environmental schemes, heritage and health-related initiatives.
This year the participating schools will use the funds for curriculum development, classroom resources, bursary and scholarship funds, extracurricular activity support, student incentive programs, IT equipment and infrastructure projects.
This year's projects were:
Summerhaven: curb appeal project to enhance the entrance of the residential facility for the disabled;
Bermuda National Trust: invasive plant species removal from the Glady's Morrell Nature Reserve;
Bermuda Institute of Ocean Sciences [BIOS]: Woodlands restoration project;
Habitat for Humanity: Assisting Habitat by painting their office and meeting space;
Crime Stoppers: Design and create a calendar for the Bermuda community
WindReach: Enhancement of the petting zoo with a mural and painting
Greenrock: Healthy harvest community garden to promote planting, harvesting, purchasing and eating local produce;
Bermuda Audubon Society: Bluebird nest box construction
Read More About