Education Minister Dame Jennifer Smith yesterday [Dec. 7] took part in a book presentation ceremony at T.N. Tatem Middle School along with author Senator Jonathan Smith.
The book and a forthcoming documentary tell the story of Major Toby Smith — the Senator's grandfather — who was a member of the first contingent of Bermudian troops to travel to the UK in 1940.
He was killed in Holland in October, 1944 — just a few months before the end of the war in Europe.
Sen. Smith drew on the 300-plus letters his grandfather sent home during the war, beginning with his voyage to the UK — when the ship carrying Bermuda Volunteer Rifle Corps and Bermuda Militia Artillery troops came close to being torpedoed by a German U-boat — and ending just two days before his death leading his men into battle in Holland.
Sen. Smith will be sharing copies of his book with all of Bermuda's middle and senior schools.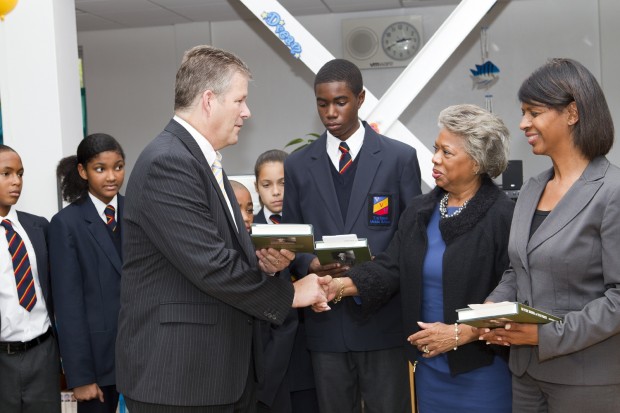 Dame Jennifer's full remarks appear below:
Good afternoon,

I am delighted to be a part of this book presentation to T.N. Tatem Middle School.

The book – "In the Hour of Victory" – is a story of courage, honour, bravery, dedication and determination, written by former Police Commissioner and Senator Jonathan Smith about his grandfather, Major Toby Smith.

Senator Smith, I know that your grandfather would be proud of the man you have become – because you exhibit the very qualities described in your book.

Major Smith was one of the first contingent of Bermudian soldiers to travel to the United Kingdom in 1940. He was killed in action as his troops won a battle in Holland in 1944 — seven months before the war in Europe ended.

It is my hope that students reading "In the Hour of Victory" will feel inspired like Bermudian film-maker, Lucinda Spurling, who plans to make the book into a documentary.

Senator Smith, it has not escaped our attention that your contact with M1 student, Ashley Z. Smith, was so impressive that you could not wait for today and gave her a book on the spot!

We in Education know that it is critical to preserve our heritage, in all its forms, so that future generations can gain some insight into the people who made this country.

Senator Smith, thank for sharing your family's legacy with Bermuda.
It is my hope that by reading "In the Hour of Victory" our students will learn more about the role that Bermuda played in World War II. It is also my hope that they will be inspired to research their own family histories.

On behalf of the Ministry of Education, thank you for this generous donation to our schools and students.
Read More About
Category: All