Minister of Business Development & Tourism returned to Bermuda yesterday [Dec.7] after a trip to New York City that saw him deliver the island's tourism message to a high profile group of media and influencers and lead a sales and marketing meeting designed to review 2011 activities and upcoming initiatives for the first quarter of 2012.
At the sales and marketing meeting held earlier yesterday, Minister Furbert reinforced the importance of driving business to the island during the first quarter, traditionally known as the shoulder period.
The group discussed tactical planning surrounding several leading initiatives for early 2012, including events such as Bermuda's first Restaurant Week, the annual Feel the Love Month, as well as two new initiatives, both taking place in March, 2012, Spring Break and College Week Reunion.
Minister Furbert said, "I am a numbers man, and my job is to help find the most effective ways to increase the number of visitors to our shores.
Minister Furbert At A Bermuda Tourism Presentation In New York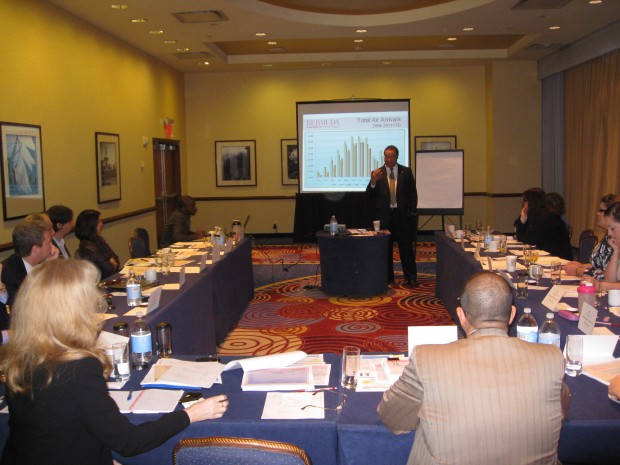 "I see no reason why Bermuda shouldn't be a viable and attractive four-season destination, so I've challenged our team to think big and work intelligently to utilise their collective tourism sales and marketing expertise to impact the year-round growth we need."
On Monday [Dec. 6], Minister Furbert hosted more than 50 top travel agents, group planners and media at the prestigious James Beard House.
He delivered a message on Bermuda's key selling points while guests enjoyed the cuisine of acclaimed Chef Jean Claude Garzia of Bermuda's Beau Rivage restaurant.
Bermuda Department of Tourism [BDOT] representatives in attendance included: William Griffith, Director of Tourism; Ann Shutte, Director of Global Operations; along with members of the New York office's sales team.
Additionally, representatives from the Department of Tourism's contracted public relations, media buying and digital marketing agencies for North America and the UK were in also attendance.
Read More About