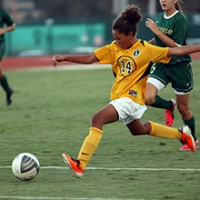 After scoring 5 of Montverde Academy's 8 goals last week, and scoring 5 goals in this week's win against Crooms Academy, Bermuda's Jasmine Spence is this week's Montverde Academy Athlete of the Week.
"Jasmine has played in 6 games so far this year where she has scored at least 3 goals or more," said first year Head Coach, Robbie Aristodemo.
"As a player, she is a joy to work with on the field as the game just comes naturally to her. Spence continues to be a driving force behind Montverde Academy's success this season as she remains the team's leading scorer with 30 goals in just 13 games. "
"What's exciting is that Jasmine is only in 8th grade which makes the future of our program extremely bright," noted Aristodemo.
Mike Potempa, Director of Athletics said, "Jasmine Spence is a special talent; there is no doubt about that. When you watch her play, she is able to find solutions to the game's problems quite easily against opponents who are much older. She definitely has a bright future in the game."
Read More About