Hamilton's waterfront narrowly avoided being consumed in a raging inferno 80 years ago when a luxury liner caught fire while moored alongside Front Street.
To prevent the ship's oil tanks igniting, the captain of the SS "Bermuda" sank her at her berth as the bridge and superstructure were burnt away .
Operated by the Furness Withy Line for its New York-Bermuda run, the SS "Bermuda" caught fire on June 17, 1931 when a blaze broke out in one of the ship's elevator shafts.
Within an hour the flames had spread and three of the 20,000-ton vessel's decks were ablaze.
"There was an explosion just before British sailors and marines [stationed on the island] arrived to assist the Hamilton fire brigade but it was quickly established that the blast was the sound of exploding distress rockets ignited by the flames which had eaten into the chart rooms," said a contemporary newspaper account of the disaster.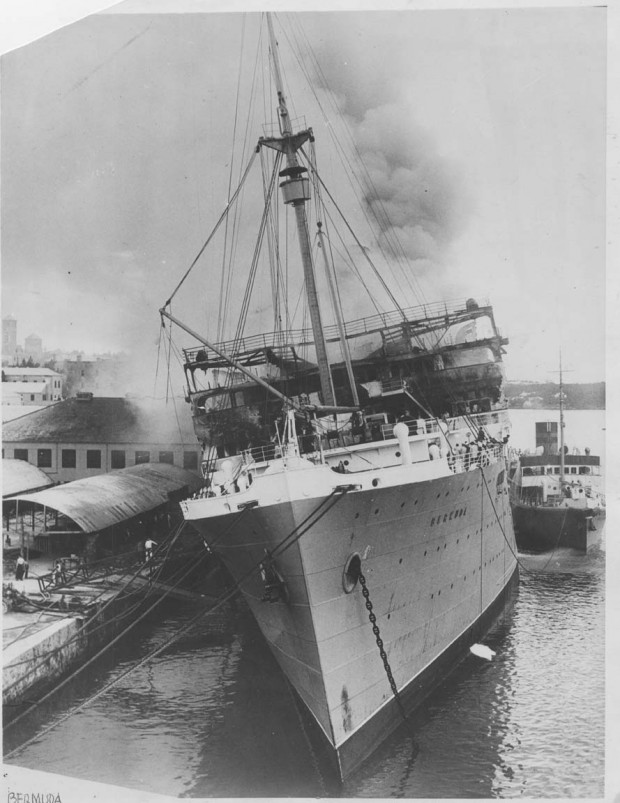 "Bermuda" Captain Harry Davis helped to direct the firemen and flooded the oil storage tanks astern, causing the ship's rear to settle on the harbour bottom.
It took three-and-a-half hours to get the fire extinguished.
"Tourists crowded the waterfront, watching the partial destruction of the handsome vessel which brought them here," said an Associated Press report. "When they came too close, police and marines with fixed bayonets pressed them back from the danger zone for there was still a possibility that the oil tanks might explode from the blistering heat.
"Tugs played streams of water from the outboard side while firemen ashore turned their hoses into the flames. Four men were badly burned and taken to hospital but there was no loss of life and no passengers were aboard."
Stranded passengers were taken to a Bermuda hotel until Furness Withy could detour another one of its liners to the island to collect them.
SS "Bermuda" was eventually salvaged and returned to her Belfast shipyard for repair where she caught fire again and was completely gutted. Furness Withy replaced her with "The Queen of Bermuda'" in 1933.
Read More About
Category: Accidents and fires, All, History