Following the Premier's visit to Brussels in June 2011, the Overseas Countries and Territories Association [OCTA] invited Bermuda to attend as an observer the 10th OCT-EU Forum in Brussels.
On that occasion the Premier expressed an interest in reviewing the current arrangements, with a view to assess whether it is now more appropriate with the current review of the Overseas Association Decision 2001 [OAD] for Bermuda to be more engaged.
Bermuda was represented by former MP Renee Webb and from the Government of Bermuda London Office, Ms. Kimberley Durrant, UK Representative and Mr. Devaune Ratteray.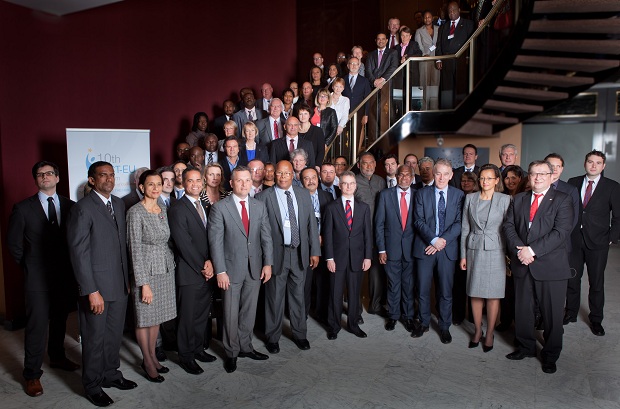 A statement issued by Government said, "Bermuda is currently not included within the OAD. When it was proposed to Bermuda to join the OAD in 2001, Bermuda declined as the Association was originally established for Territories to access developmental aid.
"Today the Association has furthered its remit and acknowledged as a means for the Overseas Countries and Territories (OCT) to heighten their presence within the EU.
"As the revised OAD's submission to the EU Council is in July 2012, the inclusion of Bermuda would award us the opportunity for increased visibility within the EU. Through the London Office, consistent representation within OCTA will be essential to maintaining constant dialogue with the EU and uphold Bermuda's interest and presence within Europe.
"Meaningful discussions at the Forum evaluated the co-operation and relationship between the EU and OCTs. A political declaration agreed by Ministerial representation within OCTA was presented to the European Commission at the Forum to affirm the global strategic value of the OCTs to enhance the relationship.
"It was essential for OCTs to ensure the European Commission continued to support the awareness of OCTs within European institutions on issues such as Environment and Climate Change; Trade; Rights of OCT Citizens; Partnership with the EU; Territorial Strategies for Innovation and Regional Projects and Equal Treatment for all OCTs.
"At the Forum Montserrat passed Chairmanship of OCTA to Greenland who is eager to continue and highlight the common challenges of the OCTs and encourage regional co-operation."
The Premier said, "I consider that deepening our engagement with the European Union was of national strategic advantage.
"There is also the potential for collateral benefits by a closer collaboration, including the possibility of technical and functional assistance in fostering environmental initiatives and support of sustainable development projects.
"I am pleased that Bermuda was able to participate in the constructive dialogue and this is consistent with furthering Bermuda's national agenda."
Read More About
Category: All