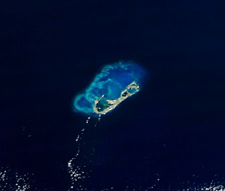 A high-altitude image of Bermuda as seen from Earth orbit was issued as National Aeronautics & Space Administration's MODIS photograph of the day [Mar. 26]
The Moderate Resolution Imaging Spectroradiometer (MODIS) aboard the Aqua satellite captured this true-colour image of Bermuda on March 16.
MODIS  is a key instrument aboard the Aqua and Terra satellites. Terra's orbit around the Earth is timed so that it passes from north to south across the equator in the morning, while Aqua passes south to north over the equator in the afternoon.
Terra MODIS and Aqua MODIS are viewing the entire Earth's surface every one to two days, acquiring data in 36 spectral bands, or groups of wavelengths.
These data will improve our understanding of global dynamics and processes occurring on the land, in the oceans, and in the lower atmosphere.
MODIS is playing a vital role in the development of validated, global, interactive Earth system models able to predict global change accurately enough to assist policy makers in making sound decisions concerning the protection of our environment.
The northwestern side of the bright Bermuda ring in this photo is made up of living coral reefs, which appear as speckles of light blue and green set against the deep blue waters of the North Atlantic Ocean.
Read More About
Category: All, Environment