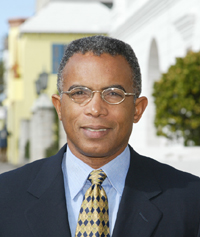 Last night's shooting at Rambling Lane is a "sobering reminder that we as a community cannot afford to be complacent when it comes to violence of this nature," said Rolfe Commissiong.
Mr Commissiong is the PLP candidate for Pembroke South East, the area where the shooting took place.
At approximately 10.20pm last night [May 22] a 51-year-old man was shot multiple times in the Rambling Lane area of Pembroke. He is presently listed in stable condition in the Intensive Care Unit.
Mr Commissiong said: "It is my hope that the victim will recover swiftly and my prayers go out to him and his family. It is also my hope that the individual or individuals responsible for this act are quickly apprehended.
"It is one thing to hear about these incidents but it really hits home when one knows the victim as I do and when one realizes that the victim's family and other innocent residents were at risk as well.
"The people who live on Rambling Lane and the surrounding areas are good hardworking people and they deserve to have safe clean neighbourhoods free of fear.
"To those that are responsible for this criminal behavior, I ask that they realize that it is never too late to change their anti-social and ultimately destructive behavior and become more productive citizens of our island," concluded Mr Commissiong.
Read More About