[Updated] The 2012 London Olympic Opening Ceremony is scheduled to start at 5pm Bermuda time this evening [July 27] and will see an eight-strong Bermuda team enter the stadium with Zander Kirkland carrying the flag.
Bermuda's Olympic team includes long jumper Tyrone Smith, and Arantxa King, triathletes Tyler Butterfield and Flora Duffy, sailors Jesse and Zander Kirkland, equestrian Jillian Terceria, and swimmer Roy Allan Burch.
While not technically a part of Bermuda's team, Jenaya Wade-Fray will be the first Bermudian to compete in these Games when she takes the court for Great Britain's game against Australia tomorrow.
The first athletes to compete for Bermuda will be the Kirkland brothers on Mon July 30, swimmer Roy-Allan Burch will follow after on Thurs Aug 2, and long jumper Tyrone Smith is scheduled to compete on Fri Aug 3.
Triathlete Flora Duffy and equestrian Jillian Terceria both compete on Sat Aug 4, with triathlete Tyler Butterfield and long jumper Arantxa King competing next week Tues Aug 7. The full 2012 Olympic schedule is here.
Tyrone Smith is considered by many to be Bermuda's best hope for a medal. In the 2008 Olympics, his top leap of 7.91m saw him place 15th out of over 40 athletes, however he has improved since then with a new top leap of 8.22m [almost 27 feet] set in 2010. If Smith had attained that 8.22m two years earlier, he would have placed 3rd as a leap of 8.20m saw Cuba claim bronze in the 2008 Olympics.
Bermudians are also expected to be cheering on the Great Britain Women's Basketball Olympic squad, with Bermuda's Jenaya Wade-Fray having been named to the team. Her inclusion in the team is believed to be the first time a Bermudian basketball player will compete at Olympic level.
The island has another 'first' during this Olympic series, as the appearance of 19-year-old Jessica Lewis in the 2012 Paralympic Games will mark the first time the island has fielded a track and field athlete in this level, with Ms Lewis having qualified in the 100m, 200m and 400m.
Bermuda entered our first Olympics in 1936, and local athletes have gone on to compete in ten disciplines; athletics, boxing, cycling, diving, equestrian, rowing, sailing, swimming, tennis, and triathlon.
Bermudian athletes have mostly competed in three genres – swimming, athletics, and sailing. Brian Wellman, Penny Simmons and Peter Bromby have made the most Olympic appearances with four each.
Through his bronze medal win in 1976, Clarence Hill gave Bermuda the distinction of being the least populous and smallest nation to ever win a summer Olympic medal – something which still stands over 35 years later.
Veteran sailor Peter Bromby came very close to giving Bermuda our second Olympic medal when he, along with Lee White, placed 4th at the 2000 Olympics.
Bermuda has also had at least two 5th place finishes in sailing, with Alan Burland and Chris Nash finishing 5th in he 1984 Olympics, and Kirk Cooper also finishing 5th in 1964.
Legendary track and field athletes Clarence "Nicky" Saunders and Brian Wellman have also had impressive Olympic showings. Mr Saunders finished 5th at the 1988 Olympics, while Mr Wellman placed 5th in the 1992 Olympics, and 6th at the 1996 Olympics.
Bermuda was the first nation in the world to have fielded a black athlete in women's diving. Katura Horton-Perinchief "dived" into history became the first black woman [from any nation] to make an Olympic appearance in 2004.
Bermuda is one of the few warm-weather nations to consistently field Winter Olympians in recent years, with Simon Payne making the first appearance in 1992, followed by Patrick Singleton and Tucker Murphy.
Tonight's Opening Ceremony will also see Bermudian performer Natalie Pereech take the stage as part of the 10,000 strong cast for the Opening Ceremonies, which is being produced at a cost of around $42 million.
Exclusive Caribbean broadcast rights were acquired by International Media Content [IMC], so IMC's is the only television feed that will be available to the entire Caribbean region, of which Bermuda is a part, according to IOC.
U.S.-based Olympics coverage on NBC, CNBC, and MSNBC, and Canadian channels must be blacked out by all broadcast and cable systems across the region.
In partnership with local broadcaster VSB, CableVision secured the rights and extended them to cable provider WOW in order to bring the Olympics to the entire island. The coverage will be shown CableVision's Channel 514 and VSB's channel 11.
The Bermuda athletes will be accompanied by Chef de Mission Stanley Douglas, and BOA President Judy Simons. BOA Secretary General Philip Guishard will also attend the Games, joining executive delegates from 204 other National Olympic Committees.
Update 7.20pm: The Bermuda team has entered the stadium in their traditional Bermuda shorts. Sailor Zander Kirkland was shown enthusiastically waving the Bermuda flag, while long jumper Tyrone Smith was showing off a little dance move. Screenshot via the BBC below.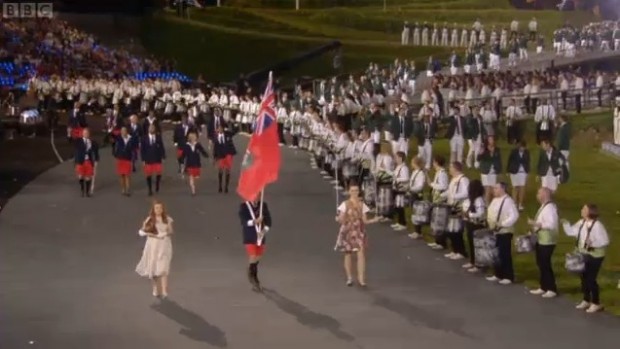 Update 8.57pm: Video of Bermuda Olympians Entering The Stadium.
Read More About