Premier Paula Cox wrapped her London visit this evening [Aug 9] by personally thanking Bermuda's Olympic athletes at a special reception in their honour. The Minister of Youth, Families and Sport Glenn Blakeney, who is also in London joined Premier Cox in hosting the reception.
This evening's reception which took place at Aspers Sky Bar, Olympic Park saw in attendance, Jesse and Zander Kirkland, Flora Duffy, Roy Burch, Jillian Terceira, Tyler Butterfield, Arantxa King and Tyrone Smith, all who during their time in London competed in front of enthusiastic and appreciative crowds.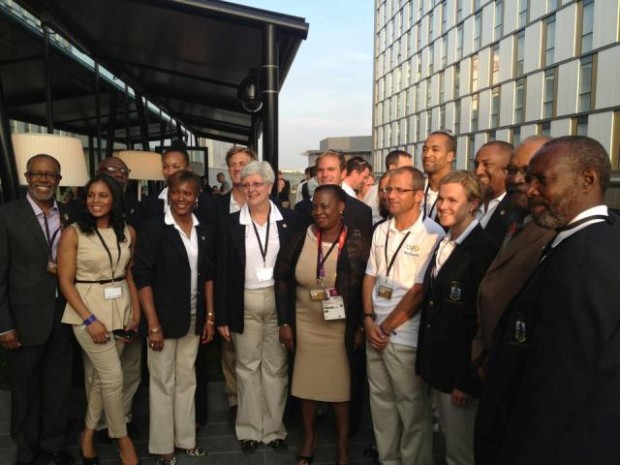 The event also welcomed all Bermudians and friends of Bermuda who travelled to London to support the athletes and those Bermudians who reside in the UK.
Of this evening's occasion, Premier Cox said, "We came to celebrate Team Bermuda 2012 who have simply been outstanding here in London, and our discussions have us eagerly looking forward to the 2016 Olympics in Rio.
"Seeing Bermuda's athletes perform on the world stage has been a phenomenal experience. This evening I shared with them that they may hail from a small Island, but they truly pack quite a punch."
Premier Cox continued, "This is my first Olympics as the Premier, however I am already thinking of ways to identify what more I can do from the position as Premier to give our athletes more support in preparation for Rio. Minister Blakeney and I have had a lengthy discussion as to the possibilities and we will follow-through.
"We recognise that greatness does not just happen overnight. There are building blocks that must be put in place. But my message to our athletes this evening was clear: we support them… we thank them… and we are tremendously proud of their performances here in London. Thank you Team Bermuda."
Following the reception, Premier Cox and Minister Blakeney attended the Olympic Stadium to witness the Olympic Men's 200 meter final, where Usain Bolt was once again victorious, defending his Olympic title in commanding fashion.
"It should be noted that the Foreign & Commonwealth Office (FCO) has graciously provided courtesies for visiting official Country representatives," a Government spokesperson said.
Read More About