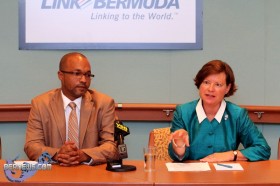 [Updated with video] LinkBermuda will be investing in a new island-wide fibre optic network called Project FibreLink, which is designed to offer internet speeds of 100MB.
Ann Petley-Jones, LinkBermuda's CEO, stated: "We are excited to be making this very significant investment in Bermuda, which we expect will help foster economic growth and materially improve the Island's communications infrastructure.
"This Island-wide, state of the art fibre optic network project will position Bermuda as one of the most 'wired' jurisdictions in the world, with resulting benefits to consumers, local and multi-national companies, Government, and students.
"With the Government's commitment to timely implementation of telecom regulatory reform to be completed in March of next year, and our firm belief in Bermuda's future, we are starting the first stage of this large, multi-year construction project.
"When LinkBermuda purchased Cable & Wireless' Bermuda operations we stated that we would be known for our integrity, our innovation and our intent to improve the infrastructure. We remain committed to those principles. This is our third major investment in Bermuda over the past eighteen months.
"In that time, we have repatriated many job functions from the UK to Bermuda, resulting in the hiring of additional Bermudians; we have invested in improved customer service, infrastructure and processes; and we have strengthened the operations.
"We intend to continue those improvements to Bermuda's communications infrastructure and to create additional employment for Bermudians. We will extend the innovative engineering and construction techniques to new products and services as Bermuda regulatory reform is implemented.
"In Canada our Group routinely offers 100-megabit Internet service to the home, which is almost 10 times faster than most Internet offerings in Bermuda today. Over the next few months we will be announcing a number of new products and services for the Bermuda market."
Lee Bragg, CEO, EastLink, stated: "We are delighted with our investments in Bermuda and recognize that Bermuda is a significant global player in international business and finance. We believe robust communications infrastructure is a pre-requisite to maintaining Bermuda's competitive position globally, whilst also materially enhancing the consumers' access to and use of the latest technologies. This further major investment is indicative of our belief in the Island and its potential."
Edgar Dill, FibreLink's Program Manager, stated: "The engineering details are well advanced and we plan to deploy advanced construction techniques for this fibre optic network build. We intend to build this network to a very high standard, which will enable us to integrate new communications technologies, both corporate and consumer, as they arise.
"This should allow our customers to be 'future proofed' in terms of their broadband communications needs. We will communicate regularly with customers, the public and Government as Project FibreLink proceeds."
Read More About
Category: All, Business, News, technology