The 4th annual 'Patch Party' was held yesterday [Sept 15] at the WindReach Recreational Center in Warwick, with approximately 40 children attending the event which served to reward them for their hard work.
The invited children all have an eye condition called Amblyopia [commonly known as lazy eye], which affects up to 4% of all children. The event was sponsored by Charis Foundation under the auspices of the Bermuda International Eye Institute.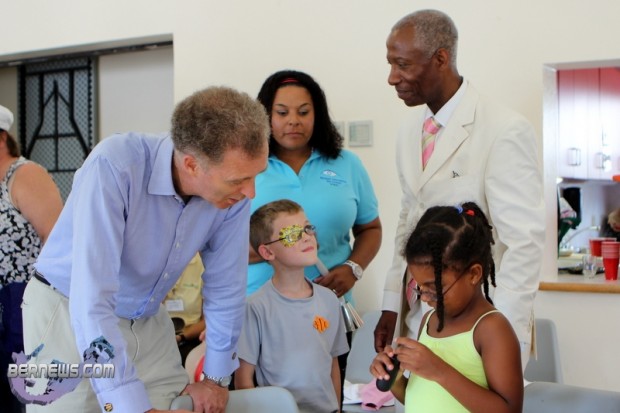 As there are not always obvious signs to look for and children don't complain of reduced vision if they have always had it [as they think it is normal] some children with this type of eye condition can get easily missed and therefore go untreated. Screening children at preschool age is very important in detecting, managing and treating this condition.
The kids enjoyed face painting, refreshments, t-shirt decorating as well as a version of the classic 'Pin the tail on the donkey' children's party game, which was changed to 'Pin the eye patch on the Doctor.'
Governor George Fergusson — who recently lost his vision in one eye — attended the event, meeting many of the parents and children in attendance. The Governor also spoke briefly, referencing his own experience with wearing an eye patch.
One of the ideas for the party was for the children to be able to meet and play with other kids who also have to wear an eye patch, as many may not come into regular contact with other kids with the same condition. The event was also designed to enable parents to network with other parents and exchange experiences and tips in dealing with their children's eye conditions.
Managing this condition in Bermuda involves a multidisciplinary team consisting of Dr Leonard Teye-Botchway, Dr Catherine Prendiville, Pediatric Ophthalmologist Dr Marc Greenberg, an Orthoptist, Ophthalmic Technicians and support staff.
Eye surgeon Dr. Leonard Teye-Botchway & Orthoptist Vikki Vaughan-Jones:
Ms Vaughan-Jones said: "In most cases we use an eye patch over the 'good eye' to help stimulate the visual development of the weaker, 'lazy eye'. The amount of time the patch is worn depends on the severity of the visual impairment. Most children have to wear the patch for several hours per day.
"The treatment can span many years until the maximum vision is achieved. Visual maturation is between 7 and 9 years old therefore treatment must be started early before their vision has matured as it is almost impossible to improve vision beyond that age.
Remarks by Governor George Fergusson and Dr. Teye-Botchway:
"Patching is a one of very few medical treatments which rely 100% on the co-operation of the child. The Dr or Orthoptist diagnose the problem and prescribe the treatment, but the heroes of the story are most definitely the children. I know they don't like wearing the patch, I know it is itchy and sweaty and I know they don't like looking different from their peers.
"I also know that they are truly awesome as they comply with the patching just as we asked. I am very passionate about this event as I feel it is so important to reward the children for being brave and compliant. They make my job easy and enjoyable. It is the best form of job satisfaction when you know you have had a part to play in giving a child their vision."
Click to enlarge images:
Read More About