The Bermuda Karting Association season continued at the Southside Motor Sports Park this weekend which saw racing in tandem with the Bermuda Motorcycle Racing Club. In addition to the racing action on track there were Classic and Custom motorcycles and scooters on display for all spectators to view.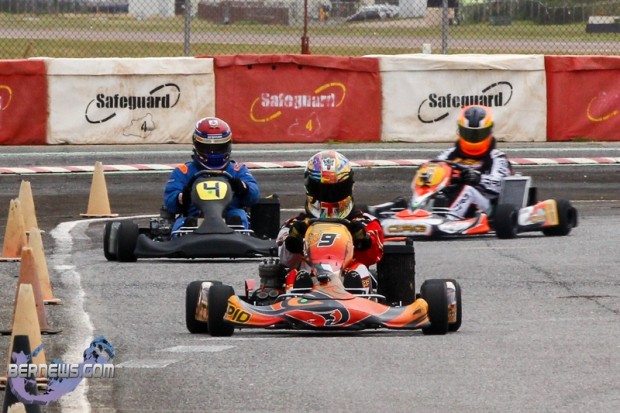 It was a good day at the track for Scott Barnes as he won all three TAG Senior Class races and also won all three 125cc Shifter Class races.
Blake Horseman won two of the three Junior Stock Clone 10-15years old Class races, with Owen DeCosta winning the other. In the Junior Modified Clone 10-15year old Class, Ryan Lopes took the win in all three races.
TAG Senior Class
Heat Race 1:
1st – 20points – #9 Scott Barnes
2nd – 17points – #6 David Barbosa
3rd – 15points – #4 Jason 'Skuzzie' North
4th – 13points – #51 Stephen Corrado
5th – 12points – #99 Al Seymour Jr.
6th – 11points – #88 Gregory White
7th – 10points – #16 Jehan Durrant
8th – 9points – #81 Amber Lopes
9th – 8points – #48 Patrick Ingham
Heat Race 2:
1st – 20points – #9 Scott Barnes
2nd – 17points – #4 Jason 'Skuzzie' North
3rd – 15points – #51 Stephen Corrado
4th – 13points – #6 David Barbosa
5th – 12points – #99 Al Seymour Jr.
6th – 11points – #88 Gregory White
7th – 10points – #16 Jehan Durrant
8th – 9points – #81 Amber Lopes
#48 Patrick Ingham – Did Not Start
Heat Race 3:
1st – 40points – #9 Scott Barnes
2nd – 34points – #6 David Barbosa
3rd – 30points – #4 Jason 'Skuzzie' North
4th – 26points – #99 Al Seymour Jr.
5th – 24points – #51 Stephen Corrado
6th – 22points – #88 Gregory White
7th – 20points – #16 Jehan Durrant
8th – 18points – #81 Amber Lopes
9th – 16points – #48 Patrick Ingham
125cc Shifter Class
Heat Race 1:
1st – 20points – #9 Scott Barnes
2nd – 17points – #5 Devon Durrant
3rd – 15points – #51 Stephen Corrado
Heat Race 2:
1st – 20points – #9 Scott Barnes
2nd – 17points – #51 Stephen Corrado
3rd – 15points – #5 Devon Durrant
Heat Race 3:
1st – 40points – #9 Scott Barnes
2nd – 34points – #5 Devon Durrant
3rd – 30points – #51 Stephen Corrado
Junior Stock Clone Class (10-15years old)
Heat Race 1:
1st – 20points – #24 Blake Horseman
2nd – 17points – #84 Owen DeCosta
3rd – 15points – #72 Corey Lewis
4th – 13points – #22 Zavier Smith
5th – 12points – #98 Gianni DeSilva
Heat Race 2:
1st – 20points – #84 Owen DeCosta
2nd – 17points – #24 Blake Horseman
3rd – 15points – #72 Corey Lewis
4th – 13points – #22 Zavier Smith
#98 Gianni DeSilva – Did Not Start
Heat Race 3:
1st – 40points – #24 Blake Horseman
2nd – 34points – #72 Corey Lewis
3rd – 30points – #84 Owen DeCosta
4th – 26points – #22 Zavier Smith
#98 Gianni DeSilva – Did Not Start
Junior Modified Clone Class (10-15year old)
Heat Race 1:
1st – 20points – #25 Ryan Lopes
2nd – 17points – #10 Zanardi Daley
Heat Race 2:
1st – 20points – #25 Ryan Lopes
2nd – 17points – #10 Zanardi Daley
Heat Race 3:
1st – 40points – #25 Ryan Lopes
2nd – 34points – #10 Zanardi Daley
Read More About