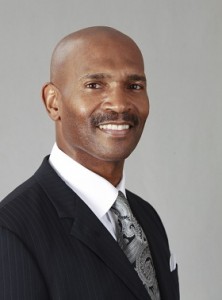 In this economy it doesn't matter if you can trace your ancestry to Dame Lois Browne Evans, Sir George Somers or the first president of the United States – no one is going to give you a job or advance your career unless you have the appropriate education and skill sets.
This was one of many messages that XL Insurance (Bermuda) Ltd's President and XL Managing Director Patrick Tannock delivered during the Bermuda Insurance Institute's Annual Education Awards Luncheon held on September 26 at the Fairmont Hamilton Princess.
Speaking to a crowd of insurance industry professionals, including new recipients of more than 150 certificates of various industry designations, Mr. Tannock identified some of the issues facing the island and international business in particular.
"The notion that Bermuda is another world has been obliterated as Bermuda is very much part of the global village and the challenges that we are experiencing are not unique to Bermuda but are being faced all over the world," he said, noting that for the first time in a while there are questions about Bermuda's relevance in the global marketplace and its value proposition as a jurisdiction.
He commented that the old dynamics that determined market cycles continue to evolve and those simply waiting for a market change will eventually be challenged for relevancy. The drive to ensure that our infra-structure is internationally cost competitive is relentless and the impact on human capital continues to be felt by all of us.
"Make no mistake about it," Mr. Tannock continued, "These are unprecedented times, and Bermuda is feeling the impact of the worst global recession in living memory. But as tough as it is today, I am absolutely confident that we will get through this! I believe in the resiliency of Bermuda and I believe in our collective ability – both Bermudians and non Bermudians – to rise to the challenge."
He noted that it is in Bermuda's DNA to successfully respond to change – citing the creation of companies such as ACE and XL in response to the U.S. liability crisis in the mid eighties; the growth of Bermuda reinsurance market after Hurricane Andrew and other storms that battered the U.S. in the nineties; and the Bermuda (re)insurance market's nimble approach to subsequent storms, 9/11 and the financial crisis.
But he warned that there has been a paradigm shift in the rate of change and that business models must become more efficient, and, that collective behavior must change to reflect the realities of a world that is flat, and, that the island cannot afford to be complacent.
He also pointed out that Bermuda must focus on providing value for service, and continue to tap into some of the "best and brightest intellectual capital on the planet within these 24 square miles" to find solutions to offer differentiated and enhanced products and new ways to address risk in real time to ensure relevance in the global market.
"Bermuda is a service economy," he pointed out. "We don't make anything. Our products are service and intellectual capital. We must not confuse bricks and mortar with sustainability. Capital, both intellectual and financial, is increasingly more sophisticated, opportunistic and fluid. Capital will always go where it is well treated and can secure the best return.
"In international business you will always have internationals, some of whom have made significant contributions to Bermuda's success. I believe that an infusion of fresh intellectual capital is healthy and increases prospects for innovation, which has been one of the hallmarks of Bermuda's success."
Bermuda must ensure that it utilizes its competitive advantage of speed to market to provide real time solutions to the opportunities that come from change by ensuring we can easily attract fresh intellectual capital while continuing our commitment to retain and develop our current intellectual capital to ensure a win/win to drive innovation throughout the cycles.
Stressing that service should not be confused with servitude, Mr. Tannock: "This is not about kissing up. It's about economics and choices. In a world that is increasingly flat, our customers, be they clients or tourists, all have choices.
"Collectively we must all act with a heightened sense of urgency to provide value for service and continue to evolve and innovate! We must become more user friendly, friction free and solution oriented. It doesn't matter if you are blue collar or white collar, if you are in the executive suite or on the floor. It's irrelevant. We must give value for service."
Mr. Tannock also urged the award recipients to make a lifelong commitment to learning in order to increase their chances for success in international business.
"Take advantage of training and development opportunities, hard and soft, tangible and intangible to stay ahead of the curve," he said. "Every day you should be looking to increase your intellectual net worth."
Providing advice on the importance of networking and taking personal responsibility for their own success, the veteran insurance executive told the award recipients: "Don't expect to have the red carpet rolled out for you or to be given handouts and remember that what got you there won't necessarily keep you there or guarantee your upward mobility."
"Companies today are looking for highly educated, highly skilled men and women of all ethnic backgrounds to participate in a highly competitive global marketplace," Mr. Tannock said.
"If you get the opportunity to get off the island, seize it! Challenge yourself to pursue opportunities in New York, London, Singapore, Chicago, and wherever there is a major financial center. I did it! It's a great opportunity to promote Bermuda Inc. Working as an Ambassador for Bermuda Inc. adds value to the marketplace and those around you."
Mr. Tannock also reminded the recipients not to forget those who played a critical role in helping them to achieve their educational success and to do their part in giving of their time by sharing their knowledge and skills to help others in the community.
He concluded his remarks by challenging them to strive for "mastery" of their skills. "I strongly encourage you to strive, not just for competence as that is expected; not just for excellence, even though it is noble; but for mastery," he said, "where you acquire the skill sets that allow you to do your craft better than anyone else.
"Remember that most people are born different but die as clones. Make a difference! Make an impact! We are all counting on you to reach your potential to ensure that the Bermuda Inc. bus remains relevant and on track! I believe in you and I believe in Bermuda," concluded Mr Tannock.
Read More About