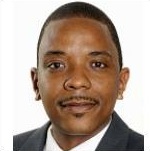 Following the recent news of his marijuana possession, Makai Dickerson has "decided to step down as a candidate."
In September of this year Mr Dickerson was caught with a small amount of marijuana after being stopped by the police at a checkpoint. It came to the public's attention within the past week, and according to Minister Wayne Perinchief the party was unaware, and were "shocked and surprised" when it came to their notice in recent days.
Mr Dickerson said: "After much reflection, I have decided to step down as a candidate. I do this because this election is too important and my personal shortcomings shouldn't cause any further distractions for my party and the voters of Bermuda during this important time.
"I appreciate that my party supports me and offered to give me a second chance but I believe that the future of our country is at stake and I don't want my personal situation causing unnecessary problems for my party.
"I would like to thank all those who have supported and continue to support me. I ask that you continue to support me through your support of the Progressive Labor Party as I will continue to stand strong with them because they stand strong for you.
"To my fellow young people, I encourage you to learn from my mistake. Be accountable for your actions. Take responsibility for the situations you allow yourself to be placed in. One simple act can call into question your integrity and be a hindrance to all you have worked for."
Mr Dickerson was scheduled to challenge OBA Leader Craig Cannonier in Constituency #12 Devonshire South Central. A PLP spokesman has advised that a candidate for C#12 will be announced tomorrow.
Read More About