[Updated] If  Tourism Minister Wayne Furbert's boasts that his new 'So much more' marketing campaign is working, why is it that the largest hotel on the Island is offering bargain basement prices to attract business, OBA Shadow Minister for Tourism Shawn Crockwell asked.
Mr Crockwell said: "If demand was picking up, and projections are 'excellent' as the Minister says, why is it necessary to offer 50% off rates, free nights and steep discounts on dining. Aggressive downward pricing by hotels reflects a market reality that does not fit into the Minister's spin.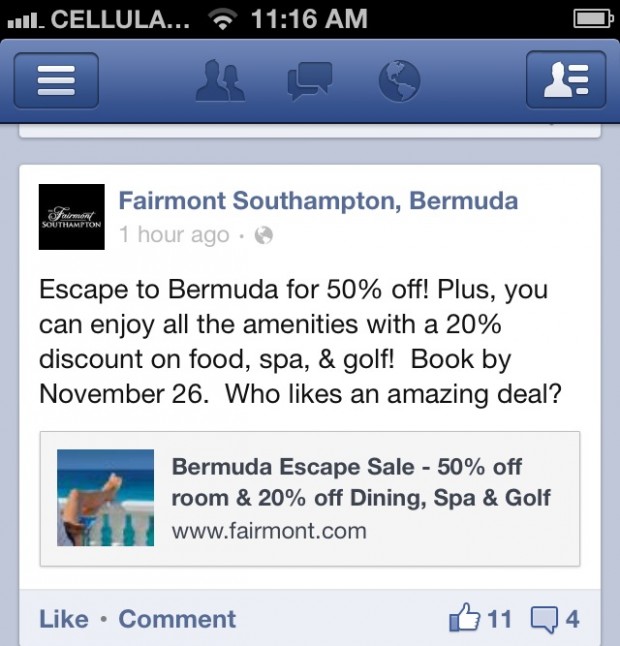 "The situation appears dire and Bermuda needs to hear the whole truth from the Minister. A One Bermuda Alliance Government will take the politics out of tourism. We will create a Tourism Authority that puts professionals not politicians in charge of the industry. We will revive Bermuda tourism, growing jobs and opportunity to the many Bermudians looking for work.
"It's time for change. It's time for new leadership, that is transparent, responsible and accountable," concluded Mr Crockwell.
Update 9.54pm: The PLP responded saying: "There they go again, desperately trying to spin bad news even on the same day that a new restaurant that employs 15 new Bermudians opens on Front Street. The fact of the matter is that every year in the lead up to the off season, the Fairmont properties and others across Bermuda offer deep discounts."
"The next thing you'll know, the OBA and Shawn Crockwell will be blaming the PLP for the changes in weather – how dare the PLP cause winter! Perhaps the next fairy tale promise from the OBA will be to ensure that summer weather occurs all year round."
Update Nov 16: Minister of Business Development & Tourism today Wayne Furbert said that the 'So Much More' campaign "was indeed attracting visitors to Bermuda."
Minister Furbert said the "evidence is in the PACE report produced by the Bermuda Hotel Association that shows that October 2012 room bookings were up 4% (1,231 room nights) compared to October, 2011."
Minister Furbert said: "Despite the doom and gloom from the Shadow Tourism Minister, our hotels are showing improved bookings going forward. Clearly our new 'So Much More' campaign is producing results and attracting visitors to our shores."
In relation to the discounted rooms currently being advertised at a local hotel, Minister Furbert said: "This is nothing new and several of our hotels offer discounted rooms during the winter season in order to increase volume."
Read More About