[Updated] The police are expected to release a CCTV image of the suspected shooter involved in last night's double murder, which occurred at around 9pm at Belvin's Variety Store on Happy Valley Road in Pembroke.
Speaking at a press conference this morning, Police Commissioner Michael DeSilva said that later today "they will show still photographs of the suspected shooter and we hope that will assist in bringing him swiftly to justice."
The Commissioner said the victims "lost their lives to gang violence," and said the shootings in recent months are "indicators of escalating tension between rival gangs."
The two victims were found inside the store and rushed to the hospital, where they were pronounced dead. The police have not officially released the victim's identities as of this time, but are holding a press conference later this afternoon where it is expected they will issue further information, as well as release the CCTV image.
Premier Craig Cannonier, Police Commissioner Michael DeSilva, Governor George Fergusson, and Minister of Public Safety Michael Dunkley held a press conference this morning to address the tragic incident, where they all pledged to do all they can to bring the perpetrators to justice, and make the island safer.
Minister Dunkley said: "In the wake of last night's shocking double shooting and the deaths of two young men, I wish to assure the people of Bermuda that their Government is focused and determined to support all necessary action to bring the perpetrators of this crime to justice."
Governor George Fergusson addressed the risk of retaliation, and said while he notes "hard core" gang members won't listen to a Governor or Minister, he knows there are many good people out there who are willing to come forward.
Premier Craig Cannonier extended his sympathies to the families, and said we are losing our young people, our most precious resource, to violence. Describing himself as being "torn up" over this incident, he said we must intensify our efforts to get along.
Video from the crime scene last night:
Shadow Minister of Public Safety Michael Scott said: "The tragic murder of two young men at Belvin's has to drive Bermuda's own debate on gun control, the pain of loss to families, and the issue of weapons deployment in our communities with fatal consequences are as painful and destabilising as we see elsewhere.
"Many citizens feel we have already descended to the horror of violence seen in other communities. Whatever the true position, we must as a country act – act to support the police and security forces, and act to prevent gun and ammunition importations. I know that in asking the public to give information also puts you at risk; however, if we stand together we can and must make our communities safe again."
The police press conference is being held at 1.30pm today, and we will update as able.
Update 1.27pm: Please stand by for a live video stream of the police press conference
Update 1.33pm: Webcast replay below, part #1
Webcast replay, part #2
Update 1.35pm: The police have identified the victims as as 34-year-old Haile A. Outerbridge and 25-year-old Rico Furbert, and said they were chased into the store. The CCTV image is to be released expected shortly…
Update 1.48pm: The police released the CCTV image below of the gunman, click to enlarge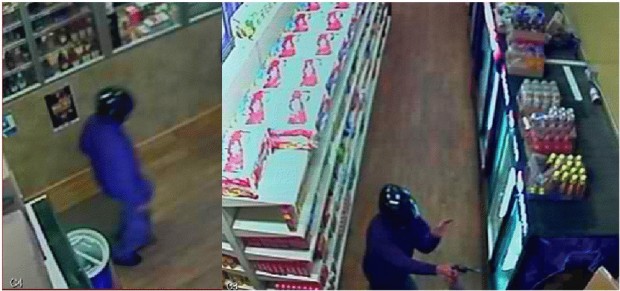 Read More About