The Police have just confirmed that a 21 year old Sandys man was arrested at 4pm today [Jan 24] in connection with last night's double murder, which claimed the lives of 34-year-old Haile "Star Child" Outerbridge and 25-year-old Rico Furbert.
The two men were chased into Belvin's Variety Store on Happy Valley Road in Pembroke at around 9pm, where the gunman fired multiple times. The police released three CCTV images of the shooter [one below], with the Police Commissioner saying he hopes it will assist in bringing the shooter to justice.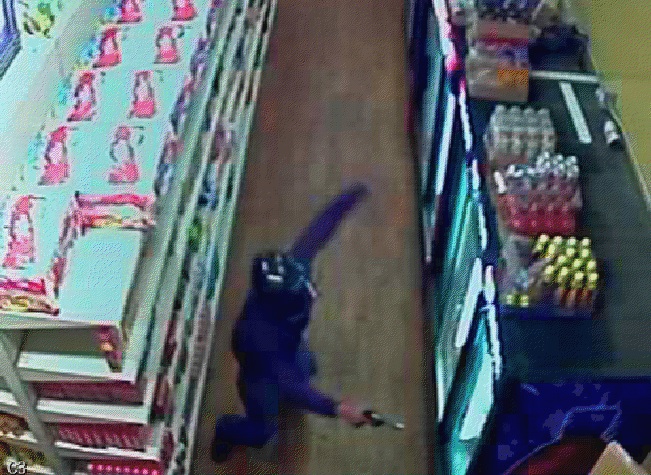 Speaking today, the police said: "The enquiry team is anxious to speak with anyone in the Curving Avenue, Happy Valley Road area between 8:50pm & 9:10pm that may have seen a group of men travelling on 2 – 3 motorcycles.
"These men would have travelled from Curving Avenue onto Happy Valley Road, and following the shooting at about 9:04pm, they travelled east along Happy Valley Road in the direction of Shelton Road, Deepdale, or Montpelier Road.
"One of the men in the convoy of three bikes is known to have chased one of the victims into the store. The gunman [as seen in photo provided] is wearing a full face black crash helmet with a tinted visor, and a full length blue rain suit.
The investigation continues, and anyone with any information is asked to contact the Serious Crime Unit on 247-1739 & 247-1340 or on the confidential & independent Crime Stoppers hotline 800-8477 (TIPS).
Read More About