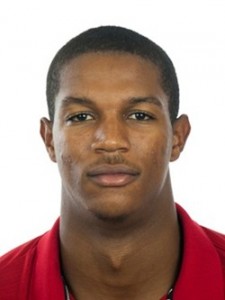 Bermuda's Te'Jour Riley scored 17 points as No.10-ranked McGill outlasted visiting Laval 71-70 in RSEQ men's university basketball at Love Competition Hall on Thursday [Feb 21].
The result clinched first-place for the Redmen (10-4) with one game remaining before playoffs, marking McGill's first regular season title in a dozen years, dating back to the 2000-01 campaign.
It also meant that both the Redmen and Martlet hoops squads finished first in the same season, a rare achievement that appears to never have been accomplished previously at the University.
Riley shot 8-for-13 from the floor and went 1-for-2 from the free-throw line. He added four rebounds, five assists and a steal before fouling out.
The 6ft 4in Bermudian basketballer was previously awarded a $20,000 scholarship by Digicel to continue his studies at McGill. He aspires to be a lawyer and is pursuing a double major in Political Science and English.
Read More About