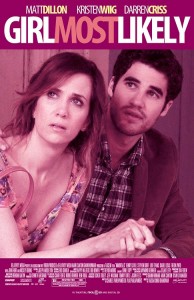 The 2013 Bermuda International Film Festival wraps up tonight [Apr. 18] with a screening of the forthcoming Kristen Wiig-Annette Bening comedy "Girl Most Likely" as its closing movie.
"Girl Most Likely" — then provisionally titled "Imogene" — premiered at the 2012 Toronto International Film Festival last September and doesn't get released in the US until July. Comedienne Ms Wiig — a longtime "Saturday Night Live" cast member and the star and co-writer of the hit movie "Bridesmaids" received rhapsodic reviews in Toronto for her performance in the quirky "Girl Most Likely."
"We are really excited about this year's closing film," said a BIFF spokesman. "We are thrilled to have secured it for Bermuda audiences to see this week."
It takes a special sort of underachiever to match the feats of Imogene [Kristen Wiig], a playwright once thought to be destined for greatness, but who has spent most of her twenties and thirties frittering away her talent and opportunities. She's just about hit bottom, having staged a suicide attempt in a desperate bid to hold on to her philandering boyfriend —  it's about the only thing she's staged in a very long time. And it's not a hit.
Things can only go up from here, and they do in this wildly quirky and weirdly optimistic comic character study.
After her fake suicide attempt, Imogene is remanded to the custody of her mother [Annette Bening], a blowsy, overbearing gambling addict with a friendly but somewhat seedy goof of a boyfriend [Matt Dillon] who claims to be working for the Central Intelligence Agency.
The film screens at the Liberty Theatre at 7 p.m. and tickets are available at www.premierticketsglobal.com
Following the screening, BIFF will be holding its annual wrap party at the Margarita Bar & Grill on Bermudiana Road from 9 p.m. until the wee hours.
Preview trailer for "Girl Most Likely"
Read More About
Category: All, Entertainment, Films/Movies