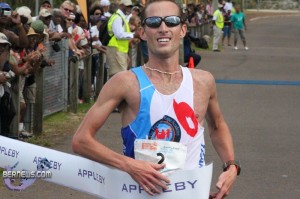 The defending Bermuda Day Half Marathon male Champion Chris Estwanik will not defend his title due to injury.
The injury came while he was training run on Saturday; he felt a pop in the knee and immediately stopped running due to the severe pain.
Mr Estwanik — who has won the race for the last few years — said, "Everyone looks to break and set records, but the one thing everyone has to remember is one's health. No one is ever happy with injuries but it is a part of sports and you have to live with these sorts of things."
"I will now get a chance to see the Derby from a different stand point as a spectator," continued Mr Estwanik.
"No one feel more disappointed than me at this time because I feel as if I am letting down those who have supported me throughout my time in Bermuda."
Mr Estwanik concluded, "I am slowly coming to grips with the fact that I will not be in the field, as I will not be 100%, so I will be out there cheering on Ashley and the hundreds of runners making their way to the finish line."
Read More About