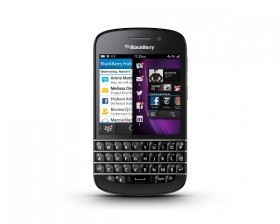 Available on the island for just a few weeks now, the BlackBerry Q10 smartphone is proving to be a popular device with Bermudians, showing that the BlackBerry brand still has something to offer those for whom a mobile phone is an integral part of doing business.
The first BlackBerry 10 device to sport a QWERTY keyboard, the Q10 is a versatile tool that offers up everything that BlackBerry users have come to love about the devices, along with a long list of new features that will help to take the technology well into the future.
Combining touchscreen capability with a full keyboard, the BlackBerry Q10 is a powerful mobile computing device that offers up everything from old favorites like BlackBerry Messenger and easy access to email, to new features such as a high-end 8 megapixel camera capable of 1080p HD video recording, a front-facing 2 megapixel camera for video chat, and access to the ever-growing library of BlackBerry 10 apps and games.
Digicel Bermuda said, "Both the BlackBerry Z10 and Q10 are proving to be popular, the team at BlackBerry have definitely made great innovations to their product. Feedback from our customers is that they are falling in love with their new BlackBerry Smartphones.
"Those that wanted a full touch screen with a modern and slick operating system are loving their Z10's. Customers that prefer a QWERTY keyboard but also enjoy touch-screens are happy to finally have the Q10, especially our corporate customers.
"The seamless interaction between social media and standard messaging in the new "Hub" is proving to be hugely popular with our BlackBerry base. Both devices have been on the high end of best sellers list since launch.
"Our faster 4G network coupled with our dedicated smartphone staff are strong reasons for anyone wanting to activate a BlackBerry Q10 or Z10 to choose Digicel. "
Read More About
Category: All, Business, technology