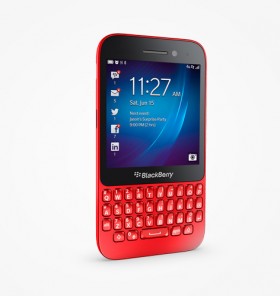 The new BlackBerry® Q5 smartphone is now available at Digicel Bermuda stores, starting at $299.
The BlackBerry Q5 smartphone features a QWERTY keyboard and comes pre-loaded with the new BlackBerry® 10 OS version 10.1 software.
Digicel Bermuda Sales Director, Shane McDonnell, said, "Style and value are important to our customers and the BlackBerry Q5 smartphone exemplifies both of these traits.
"The stylish device offers a more affordable alternative to the BlackBerry Z10 and BlackBerry Q10 smartphones while boasting many of the same features."
Mr. McDonnell continued, "BlackBerry continues to enjoy popularity here in Bermuda, with many local residents choosing BlackBerry smartphones.
"The BlackBerry Q5 definitely appeals to the loyal BlackBerry user who loves having a physical keypad for easy typing. With the BlackBerry 10 OS, this device also appeals to those users who, while being cost-conscious, are looking to upgrade to a sleeker operating system."
The new BlackBerry Q5 smartphone starts at $299, full pricing details can be found here on Digicel's website.
Crackberry.com's overview of the BlackBerry Q5:
Read More About
Category: All, Business, technology