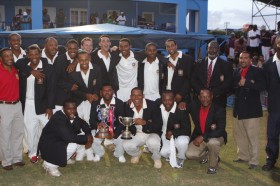 [Updated with video] The 2013 Cup Match Classic has ended in a draw, with the defending champions Somerset set to retain the Cup for another year.
The first day of play saw Somerset win the toss and elect to bat. Somerset powered up to 370 runs, with Janeiro Tucker the top scorer with 110, a feat that saw him surpass Charlie Marshall's total of 1,357 to become the all time leading run scorer in Cup Match history.
Tucker also became the first player to score four centuries in Cup Match, with Somerset fans flooding onto the pitch to congratulate him on both accomplishments.
Tre Manders also grabbed himself a century, hitting 15 fours and 3 sixes on his way to his hundred. Somerset ended the first day of play with the upper hand, having declared at 370/6, while St George's were at 76/5.
The second day of play kicked off with Lionel Cann and Rodney Trott at the wicket for St George's, with Cann needing 1 run to reach the 1,000 all time run mark in Cup Match. Fans flooded the field after the veteran cricketer surpassed the 1,000 mark.
After a two hour delay and the lunch break the teams came back on to the pitch and St George's ended up all out for 191. Rodney Trott was the top scorer, Onias Bascome scored 25, while captain Oronde Bascome and Lionel Cann both added 19.
Malachi Jones led the Somerset bowling attack with figures of 11-5-22-4, while Jacobi Robinson bowled 16-3-65-4. Somerset sent St George's back into bat again, and the second innings got underway.
At around 5pm, Treadwell Gibbons was ruled out by the Umpire, a decision that clearly did not impress him as he stayed on the pitch and waved his bat around. He was pulled away by another player, and eventually left the pitch.
St George's got up to some 135-5, however at around 7.20pm the match was called a draw.

Somerset Team: Jekon Edness [Captain], Malachi Jones, Janeiro Tucker, Chris Douglas, Kamau Leverock, Greg Maybury, Tre Manders, Derek Brangman, Stephen Outerbridge, Terryn Fray, Jacobi Robinson. Reserves: Justin Donawa, Shaquille Jones, Justin Corday
St. George's Team: Oronde Bascome [Captain], Rodney Trott, OJ Pitcher, Lionel Cann, Treadwell Gibbons, Allan Douglas, Justin Pitcher, Onias Bascome [Colt], Lateef Trott [Colt], Zeko Burgess [Colt], Christian Burgess [Colt]. Reserves: Akeem Trott, Macai Simmons, Delray Rawlins
Read More About