[Updated with video] Treadwell Gibbons has apologised to everyone for his recent behaviour at Cup Match, and said it will not happen again.
The apology was delivered at a press conference this morning [Aug 13], during which the cricketer was joined by Pastor Joseph Whalen and representatives from the Cleveland County Cricket Club.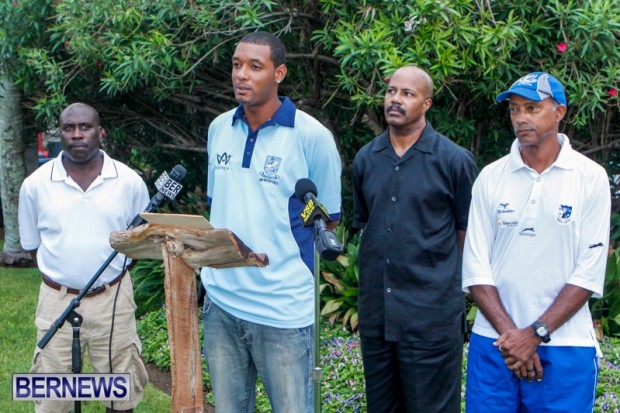 During the recent Cup Match Classic Gibbons was ruled out by an umpire and initially refused to leave the field, at one point waving the cricket bat around and being restrained by another player.
He was initially named as part of the training squad for the Dubai tour in November 2013, but was suspended in light of his actions over Cup Match.
Mr Gibbons said, "First of all I want to apologise to my family, to the Governor, the Premier, St. Georges fans, Somerset Fans, and the to the people of Bermuda. My actions on the second day of Cup Match were wrong. I got caught up in the heat of the moment. I am very apologetic for what I did.
"It will not happen again. I am taking steps to work on self-discipline to prevent any such behavior from reoccurring. It was never an intention of mine to hurt anyone or hit anyone. It may have looked like that, but I never had any intentions of hitting anybody. At Cup Match I really, really wanted the best. I had goals that I wanted to accomplish and I am deeply sorrowed that I did not achieve them.
"I have been playing cricket all my life, for over twenty years, ever since I was five years old. The person who inspired me was my Daddy – he took me to games, and played cricket with me. The game is in me, in my blood. I love to play. I love to represent the Cleveland. I love to represent Bermuda.
"I wish to have the opportunity to represent Bermuda again, and to play Cup Match again. I accept my punishment and I pray that I will have a future in cricket," concluded Mr Gibbons.
Read More About