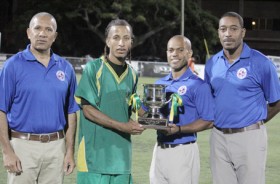 Devonshire Cougars won the 2013/14 Charity Cup last night [Aug 28] defeating Somerset Trojans 6-3.
The Somerset Trojans took the lead in the 9th minute when Leo Burgess got on the back side of the Devonshire Cougars defense and beat Daniel Johnson in goal for the Devonshire Cougars.
The Devonshire Cougars were awarded a penalty kick in the 20th minute that saw Moses Steede miss the target, from the goal kick the Somerset Trojans doubled their lead as Jameko Harvey-Outerbridge scored.
Three minutes later the Devonshire Cougars were back in the game, a cross to the back post found Kwame Steede who out jumped the Somerset Trojans defense and his goalward header was headed in by Domico Coddington.
The score was level in the 31st minute as Zeko White was left unmarked in the box and he made no mistake from close range. The teams went to the break even at 2 – 2.
The Devonshire Cougars went in front in the 57th minute after Coddington found the back of the net for the second time in the game, Drewonde Bascome made it 4 – 2 to the Devonshire Cougars in the 74th minute when he converted from the penalty spot, but one minute later the Somerset Trojans pulled within one when Adrian Burrows scored with a diving header.
The two goal cushion was restored by the Devonshire Cougars when substitute Makai Battersbee scored to make it 5 – 2 in the 81st minute and then Steede closed out the scoring when he scored two minutes later to make the final score 6 – 3.
Read More About