On August 23, the U.S. Consulate recognized nine shipping companies registered in Bermuda for participating in the United States Coast Guard's voluntary search and rescue network, AMVER [Automated Mutual-Assistance Vessel Rescue]. Search and rescue authorities around the world use the voluntary ship reporting system to assist ships and aircraft in distress at sea.
The companies whose 21 ships received awards for participating in AMVER were:
AET Inc. Ltd. for the Eagle Augusta;
Bernhard Schulte Ship Management Ltd. for the Bahama Spirit;
Bermuda Institute for Ocean Sciences for the Atlantic Explorer;
Container Ship Management for the Oleander;
Frontline Ltd. for the Front Tina;
Golden Ocean Group Ltd. for the Channel Alliance, Golden Eminence, Golden Empress, Golden Endeavor, Golden Shui, Golden Zhejiang, Golden Zhoushan, SFL Sara, and SFL Yukon.
Petredec Ltd. for the Aintree and Mill Reef;
SFL Bulk Holding Ltd. for the SFL Humber; and
Teekay Shipping Ltd. for the Bahamas Spirit, Koa Spirit, Sea Bay, and Sea Hope.
U.S. Consul General Bob Settje distributed U.S. Coast Guard awards to nine Bermuda-registered companies whose ships participated in the Automated Mutual-Assistance Vessel Rescue [AMVER] System during 2012. Pictured left to right are Capt. Ron Harelstad, BIOS; Don Dunstan, Petredec; Howard Pitcher, Container Ship Management; Georgina Sousa representing Frontline, Golden Ocean Group, and SFL Bulk Holdings Group; Mark Cave, Teekay Shipping; Capt. Raja Ray, AET Inc.; and Consul General Bob Settje. Missing from the photo is Jens Alers, Bernhard Schulte Ship Management Ltd.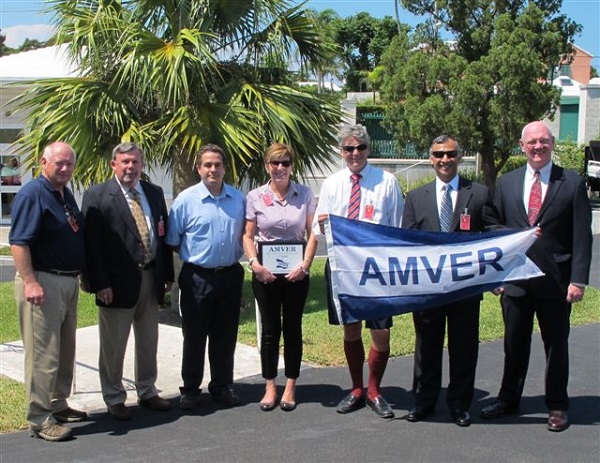 Ten of the ships were enrolled in AMVER for the first time, five participated for two consecutive years, two were on the plot for three consecutive years, and two were enrolled for four consecutive years. Particularly noteworthy were the Bahamas Spirit and the Channel Alliance for their 14 and 16 consecutive years on the plot respectively.
After presenting letters of appreciation to representatives of the local participating companies and certificates of merit and pennants for their ships, U.S. Consul General Bob Settje said, "I want to thank these companies, the ships, and their crew members for participating in the AMVER program. These ships were constantly available to help engage in a rescue, which is absolutely essential when human lives are at stake. We welcome the ten ships that are new to AMVER this year and encourage continued participation in this search and rescue program by the other ships."
The concept of an AMVER safety network arose after the 1912 Titanic disaster. Passing ships were unaware that the Titanic had hit an iceberg and was sinking, believing that the distress signals were part of the maiden voyage celebrations. The idea of a ship reporting system that could identify other ships in the area of a distressed ship did not become a reality, however, until the advent of computer technology in the 1950s.
In the AMVER system, participating ships send a sail plan to the AMVER computer center, indicating their ports of departure and arrival, course and speed. Vessels then report every 48 hours until arriving at their port of call. Thus AMVER is able to project the position of each ship at any point during its voyage in relation to a mariner, vessel, or aircraft in distress. AMVER rescue coordinators can then divert the best-suited ship or ships to respond.
Worldwide, AMVER-enrolled ships rescued 496 survivors in 2012. There was an average of 5,305 ships available every day during 2012 to assist in search and rescue. The success of AMVER is directly related to the extraordinary cooperation of ships, companies, search and rescue authorities, communication service providers and governments in supporting this international humanitarian program to protect life and property at sea.
Read More About
Category: All