A 31 foot sloop left Bermuda bound for St Kitts with one person onboard, however during the journey he was "unable to start the engine or sail in the prevailing light winds, and he made the decision to abandon the yacht."
The LNG tanker Torben Spirit diverted to assist him, and the ship's captain brought the sailor back to the island, with officials noting that "the yacht skipper was grateful to be back in Bermuda. "
File photo of the LNG tanker Torben Spirit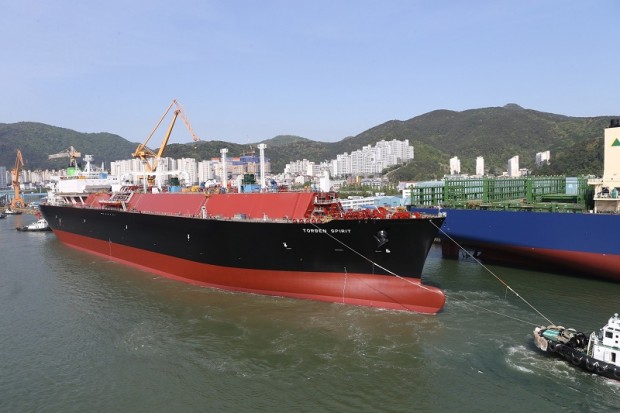 A Bermuda Maritime Operations Centre spokesperson said, "Wednesday 16th December, 11:45 am – RCC Bermuda received a 406 MHz PLB alert from a U.S. registered beacon originating from a position approximately 250 miles south east of Bermuda.
"The beacon was unregistered however, it was known to be generated from the Bermuda registered 31 ft sloop Mujan which left Bermuda on Friday 11th December bound for St Kitts with one person onboard.
"On departure, Mujan had filed a float plan with Bermuda Radio and details of this beacon had been recorded. The United States Coast Guard also received the distress alerts and in consultation with RCC Bermuda, launched a C-130 aircraft from Elizabeth City, NJ to search the area. The merchant vessel LNG tanker Torben Spirit was diverted to assist.
"At 3:45pm that afternoon both the merchant vessel and US SAR aircraft were on scene and in communication with Mujan, the skipper was unable to start the engine or sail in the prevailing light winds, and he made the decision to abandon the yacht and board the tanker, this was done using the yachts tender.
"Once safely onboard the Torben Spirit, the ship's Captain kindly arranged to divert from the planned passage to Milford Haven in the UK and take the stricken sailor back home to Bermuda.
"At 7:00 am on Thursday morning. the transfer was made to the Pilot/Rescue Boat St George and the yacht skipper was grateful to be back in Bermuda. The yacht was unfortunately left a drift and RCC Bermuda has issued a navigation warning regarding the floating hazard."
Read More About
Category: All