Three top coaches from the Chelsea Football Club Foundation in England arrived in Bermuda last night [Aug 29] to take part in the 2013 Digicel Kick Start Clinic which will involve thirty of the island's top young football players.
Digicel Bermuda recently announced the introduction of the 2013 Digicel Kick Start Programme in which three youth coaches from the Chelsea FC Foundation will lead the search for Bermuda's top footballing talent. Though making its debut in Bermuda this year, the Digicel Kick Start Programme is now in its sixth year globally.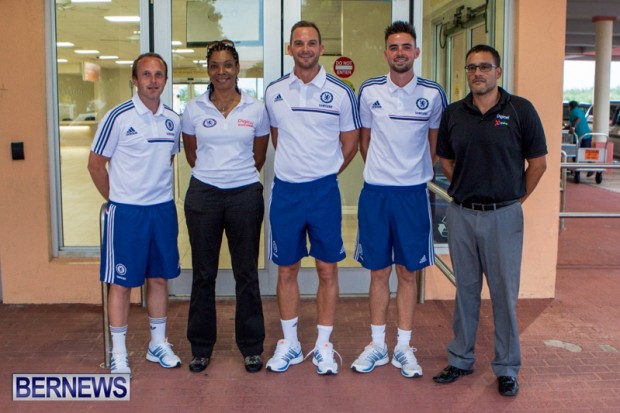 The coaches include David Monk, Senior International Football Development Officer, who specializes in ambassadorial roles and coach education programmes.
Andrew Patrick Ottley wis the International Development Officer, and the third coach is Kane Nicholas Cowburn, International Football Development Head Coach.
Cowburn has a wealth of experience in the scientific elements of modern football. As an International Development Head Coach, and specializes in the tactical analysis of players within an elite performance program.
After they have been put through rigorous training sessions from the coaches, three of the young football enthusiasts from Bermuda will have the opportunity to attend a one-week training camp at the Digicel Academy in Barbados in October along with other young footballers from the Caribbean.
The 30 young footballers who will take part in the clinic are: Ahria Simons [13], Ajani Tucker [16], Akim Johnston [14], Andre Ivo [15], Brian Darling [13], Christian Albuoy [14], Christopher Araujo [14], Isaiah Taylor [16], Jahnazae Swan [16], Jamin Lottimore [15], Joshua Hardtman [15], Jyhair Tucker-Bell [15], Kacy Butterfield [15], Krishun Douglas – Henry [13], Llineiko Millett [15], Mazhye Burchall [15], Mikiel Thomas [15], Nicholas Araujo [16], Omari Tucker [14], Raushun Tankard [16], Ricaija Simmons [14], Samuel McKittrick [13], Te-vahn Tyrell [16], Travis Boyles [15], Tyriko Williams [15], Za'Khari Parsons [14], Zari Simmons [15], Zenawi Bowen [15], Zhyiah Wolffe [15], and Yanai Smith Davis [14].
Read More About