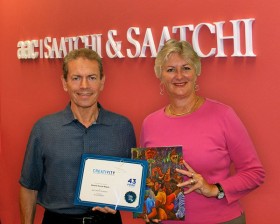 AAC Saatchi & Saatchi has been awarded an honorable mention for outstanding creative designate the Creativity 43rd Print & Packaging Awards for their Bacardi Annual Report.
Bermudians Rhona Emmerson and Peter O'Flaherty [pictured] were the creative team behind the report.
Mrs. Emmerson, Creative Director and CEO comments, "With over 1,100 entries from around the globe, we are pleased to see our agencies creative talent recognised in the international playing field."
The Bacardi's 2012 Annual Report celebrates 'a family united in global celebration' and profiles the family members gatherings, as well as the 150-year celebrations from around the world.
"Bacardi believes in rich colour, textures and great images to tell their family's story. Through our creative we ensure that brand recognition is reinforced and the companies values and financial statements are well presented," explains the designer,Mr. O'Flaherty.
With 12 full time Bermudian staff, AAC is the largest integrated agency on the island and the agency of choice for a variety of international companies domiciled in Bermuda as well as local clients in business across the spectrum: from retail, finance, banking and insurance to travel and hospitality, telecommunications and utility companies.
AAC Saatchi & Saatchi prides themselves on innovative creative based on strong strategic direction. As the agency behind the recent 'More Pink BDA' movement, North Rock's 'Blaze' and the Washington Mall's 'Love Garden,' the agency said they are changing the way in which communications are done in Bermuda.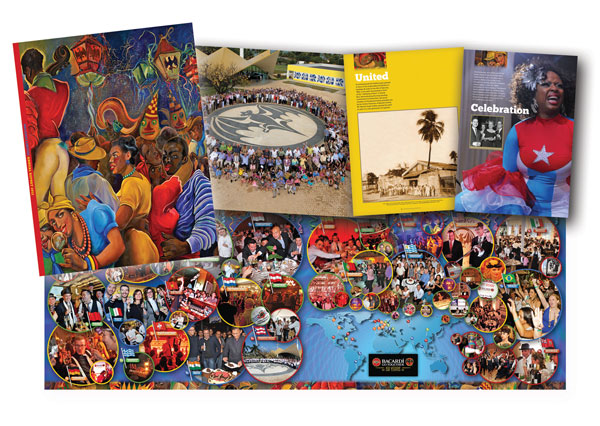 Mrs. Emmerson comments, "It is not just about a press ad or radio spot, nor is it all about social media. The mature market in Bermuda demands that you have to be original, authentic and creative to stand out from the crowd. Here at AAC Saatchi & Saatchi we strive to give our clients not only what they want, but also what they never dreamed possible."
Read More About