The Bermuda Arts Centre at Dockyard [BACD] in conjunction with the Somerset Economic Empowerment Zone [SEEZ] will host its 2nd Annual Mangrove Hallows Halloween event in the Somerset Village on Saturday, October 26 from 12 noon to 4pm.
The Mangrove Hallows event will start with a band of fully costumed Zombies staggering from Grey's Bridge to Somerset Village. The Zombies will have previously completed pledge sheets in an effort to fund raise for The Bermuda Arts Centre at Dockyard.
Once in the Mangrove Bay area, the Zombies, to be joined by Witches and Warlocks will take residence on a number of business porches with a frothy brew; the remainder of costumed characters will take part in a wide variety of ghoulish games and children's activities held during the event, all serving to turn Mangrove Bay into the ultimate ghoul town; children will be able to take photos with their favourite scary creature as well as enjoy the events music-filled fun family atmosphere.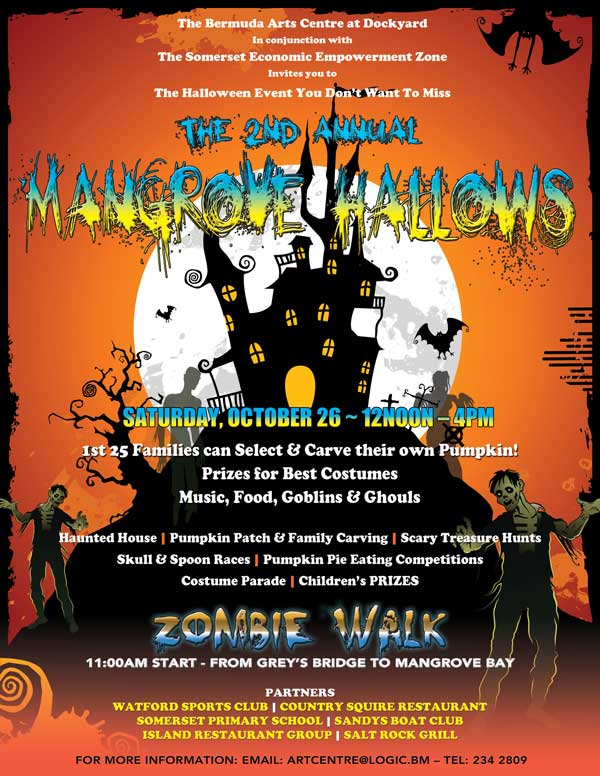 Starting at 12noon, the first 25 families looking to test their pumpkin carving skills will be able to enter the pumpkin carving contest; families that want the full experience can even select their pumpkin from the area's pumpkin patch. All carve off round winners will be eligible to compete in the grand family pumpkin carve off. The Watford Sports Club Haunted House will also be open from 12noon for 2 – 7 year olds.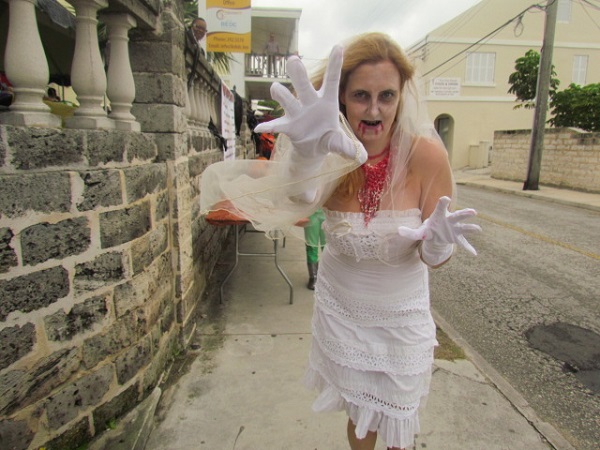 In response to last year's Pumpkin Pie Eating Contest's rip roaring success, the event will still be held at the Somerset Country Squire but will be brought closer to the road so that more people can enjoy participants gorging themselves with pumpkin pie. So that event attendees can move safely up and down within the Mangrove Bay area, one lane of traffic will be closed from Mangrove Bay to Salt Rock Grill. Police and event volunteers will be on hand to assist attendees as needed.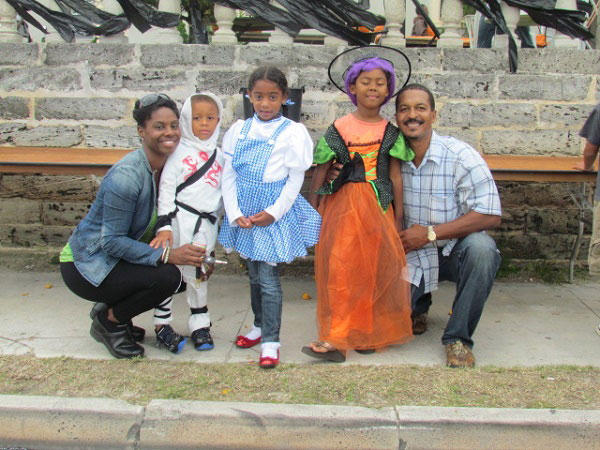 This year's event will feature an expanded children's FUN ZONE, run by the Somerset Primary School PTA. The FUN ZONE will offer a wide variety of family and children's Halloween activities and games and also serve as a fundraiser for the school. Children's Skull and Spoon Races and Scary Treasure Hunts will round out the fun-filled, prize and candy galore afternoon. The Costume Parade will be a sure hit at the end of the event with all costumed characters taking to the music filled streets. Don't forget to bring your camera for loads of outlandish photos.
Parking will be at Watford Bridge, the field behind HSBC Mangrove Bay, Mangrove Bay Post Office and the Old Bus Terminal off of Beacon Hill. Over 1000 persons are expected to attend the Haunted Hallows event and enjoy the festive Mangrove Bay atmosphere demonstrating the power of partnering, community togetherness and business development.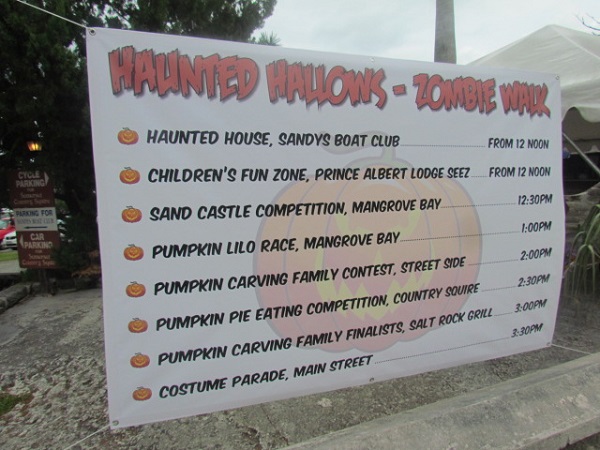 This year's Haunted Hallows promises to be the place to be for a wickedly fantastic family time. All persons wishing to make the Haunted Hallows event even more exciting are asked to email artcentre@logic.bm or call 234 2809.
Read More About
Category: All, Entertainment