A recent business seminar had a star speaker, with 10 year old lemonade-stand entrepreneur Ashley Stephens addressing the gathered crowd of approximately 50 people.
Ashley spoke about the importance of cleanliness and having the support of family. When asked about most important piece of advice to someone who may be considering vending she said "Do something that you are passionate about as passion is the most important part of developing a business."
Ashley set up her Lemonade stand and throughout the evening treated attendees to samples of her delicious homemade lemonade. One attendee remarked, "If Ashley can do it, so can I…the seminar was inspiring and helped me to refocus the importance of making my display look better."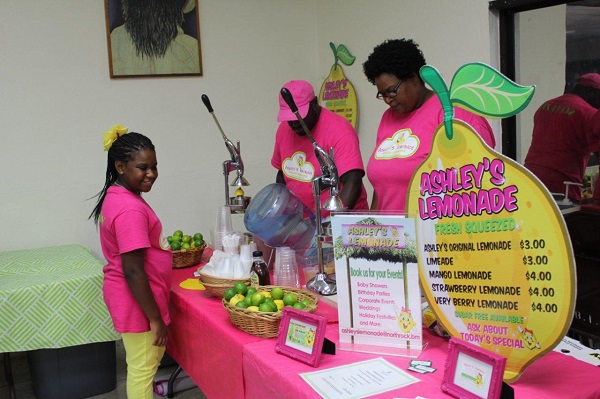 The BEDC'S Economic Empowerment Zones Agency hosted the Vendor Seminar entitled Merchandising for Success on Tuesday, November 5th, focusing on Tips and Techniques to increase sales and reduce cost.
After an official welcome from BEDC Board Member Hassan Durham and a presentation by Roxanne Christopher on BEDC Support and Services; the seminar was broken into two segments.
The first segment included a presentation by Mr. Tony Thompson who is the Menswear Buyer and Visual Planner for Gibbons Company. His general message to vendors was that they should highlight their merchandise and that good displays do not have to be expensive.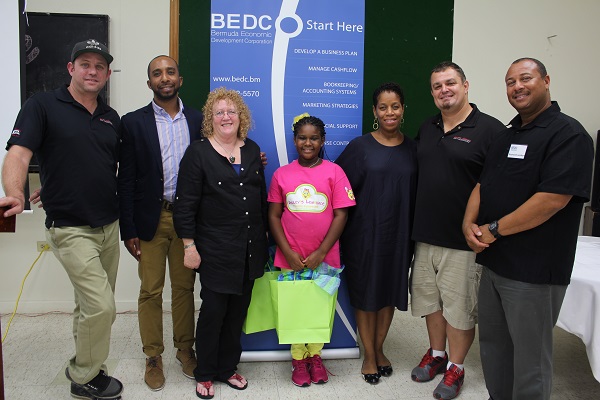 He was followed by Mr. Brian Bennett of Bermuda Flag and Sign Company who displayed a range of products which they have developed for their customers to help them attract customers.
The second half of the seminar involved presentations from three successful vendors including Ashley, Allison Smith of Confections and Wendy Avery of Dockyard Glassworks.
Allison Smith of Confections showed a number of examples that she uses in the merchandising in her Cookie Business. Since many of her cookies are ordered as gifts she stressed the importance of professionalism and presentation not only to the person who placed the order, but also to the recipient.
Wendy Avery spoke of the hard work and dedication it takes to build a quality brand. She showed how she arranges her products in groups by size, type or color and the importance of having something for all levels of affordability.
According to event organizer Ray Lambert, "the objective was to organize a panel that have a wide range of experiences and were willing to share with our audience to help improve vendors across the island".
In addition to the information that the presenters shared, attendees were visually stimulated as each of the presenters set up a display to show examples of merchandising.
The "Merchandising for Success" workshop is part of a series and the 3rd and last workshop in the series is entitled Bermuda's Vendor Markets – Identifying your niche, and will take place on November 19th.  Email info@bedc.bm for more information.
Read More About