At 12:47pm Bermuda time on Monday afternoon [Dec 23] a 5.2 magnitude earthquake struck in the Atlantic Ocean about 400 – 500 miles to Bermuda's south. According to the U.S. Geological Survey, the exact location was 25.724°N 66.594°W at a depth of 4.1km
The USGS estimates that over million earthquakes occur around the world each year, however many go undetected because they hit remote areas or have very small magnitudes. Anyone who feels the effect of an earthquake is always asked to report it online to the USGS.
Screenshot below from the USGS website: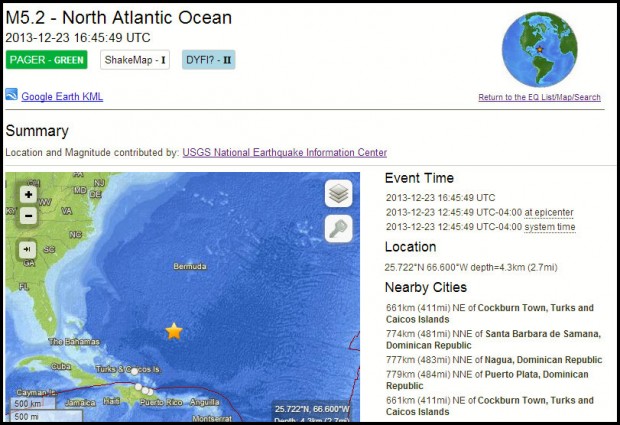 There are approximately 1300 earthquakes of a magnitude of 5.0 or higher each year, and this section of the Atlantic Ocean is a less than common location.
The last time there was an earthquake very close to Bermuda was in April 2011, when a 4.4 magnitude earthquake occurred approximately 50 miles west of Bermuda.
Read More About
Category: All