[Updated with info/quotes/charts/video] Numerous locals are reporting that they felt the ground shake for a few seconds this afternoon [Apr.18]. Reports are coming in from all over the island including Hamilton, Somerset, Paget and much more. It is not clear at this time what occurred however we are presently contacting the relevant officials to attempt to obtain clarification.
Did you feel the ground shake? If so please feel free to leave a comment letting us know what you experienced.
Update 12:53pm: We have our first answer back from officials, who are presently "looking into it", and will get back to us with a statement as able
Update 12:59pm: In under 10 minutes we have had over 150 people post on our site and Facebook confirming that they felt the ground shake.
Update 1:00pm: Reports indicate that this may have been a 4.8 magnitude earthquake. See this link for details.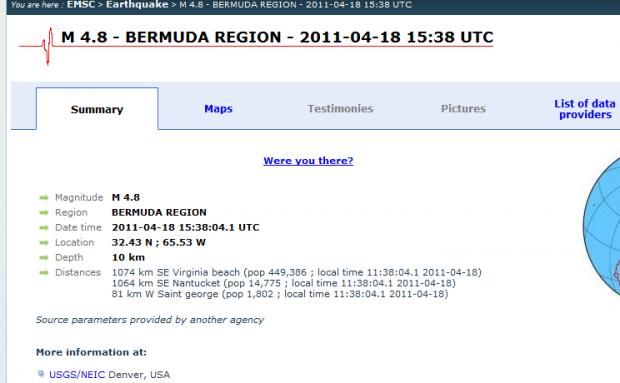 Update 1:14pm: Straight from Dr Mark Guishard of the Bermuda Weather Service: "There was a 4.4 Magnitude Earthquake at 12:38pm local time, estimated to be 50 miles west of Bermuda. There is NO tsunami danger – repeat there is no tsunami danger.
Update 1:21pm: For any of our readers overseas, it appears that everyone is fine, and there has not been any major damage. This is unconfirmed at this time, but to assure those "onions overseas"…we appear to be fine, and this is not a case of Bermuda sustaining massive damage and/or injuries.
Update 1:22pm: Graphic below courtesy of the European-Mediterranean Seismological Centre: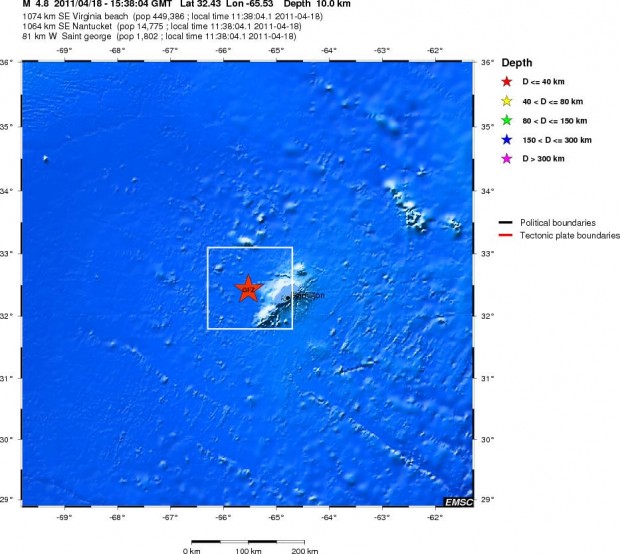 Update 1:33pm: Just a quick note to say thanks to everyone who mailed in links to earthquake sites/info, it was much appreciated.
Update 1:46pm: The European-Mediterranean Seismological Centre, who initially reported it as a 4.8 magnitude earthquake, has downgraded it to a 4.5. The said it was a depth of 10 km [6.2 miles].
Update 1:48pm: Graphs courtesy of United States Geological Society, who is reporting it as a 4.6-magnitude earthquake. See their information here.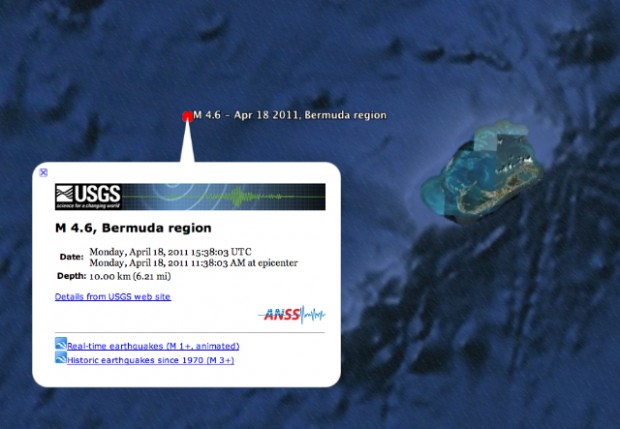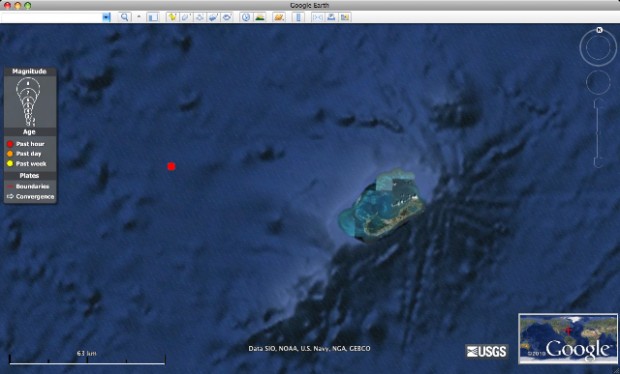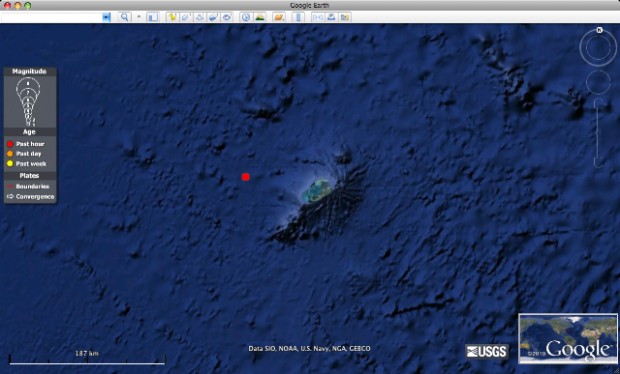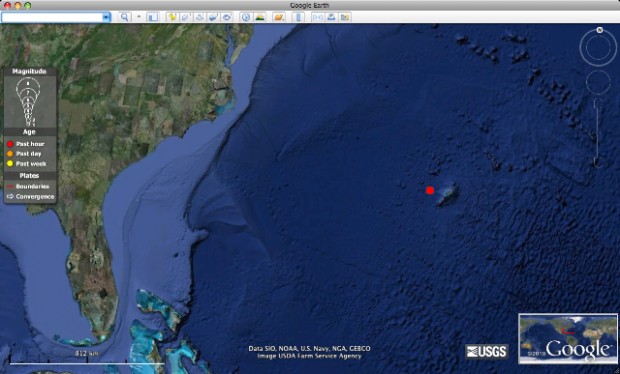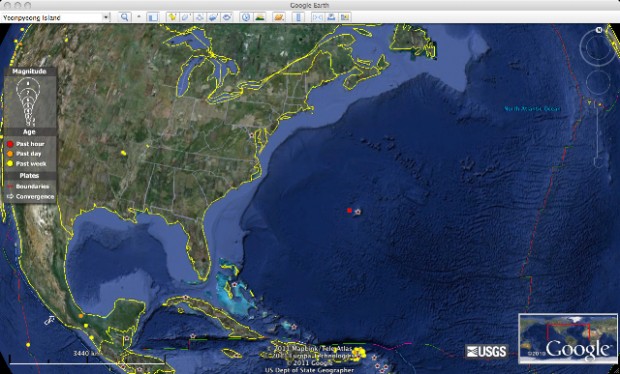 Update 1:55pm: Thanks to a reader, here is a link about an earthquake in Bermuda in March 24, 1978. The site says, "The Bremuda earthquake (M~6) occured near the westerly extension of the Kane Fracture Zone roughly 370 km southwest of the island of Bermuda. It is one of the largest oceanic intraplate earthquakes to occur off the eastern coast of North America. Because of its size and location, it has provided an excellent set of WWSSN body waves. They can be used to infer its depth and faulting parameters by waveform modeling techniques. The results indicate a north-northwest striking thrust mechanism (strike = N20°W, dip = 42°NE, rake = 90°) with the hypocenter located at a depth of 11 km, which for an oceanic crust places it predominantly in the mantle"
Update 2:01pm: Still looking back in history, the clipping below is from a New York Times newspaper published on October 25, 1883.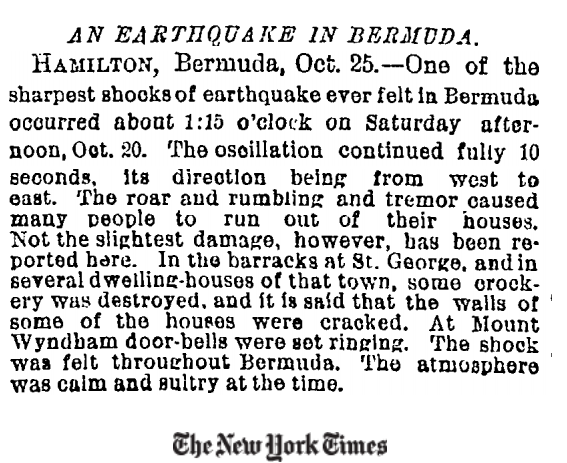 Update 2:06pm: Bermuda Institute of Ocean Sciences director Dr. Tony Knap said with 25,000 earthquakes of varying magnitudes taking place globally every year — there have been 307 in the last week alone — it's not uncommon for tremors to occur within a 200 mile range of the island.
"You have to remember the Mid-Atlantic Ridge to Bermuda's east is a major fault zone," he told Bernews, adding the island is far enough removed from the vast undersea mountain range not to be endangered by any seismic activity .
And he added while it's certainly not common for Bermuda to be shaken by underwater quakes as happened today, "if you look at the historical data it's certainly not unknown." BIOS opened a seismic station to begin monitoring earthquake activity in this region of the Atlantic in 2002.
Update 2:07pm: The United States Geological Society reports that it was 88 km [54 miles] WNW of Hamilton.
Update 2:14pm: In the first 90 minutes following the earthquake we had around 400 comments on site and on our Facebook page from people saying they felt the tremors, and it appears it was felt islandwide, with numerous reports coming in from all areas of the island. People have reported the ground shaking and rumbling, while some have reported items falling off tables and walls. It appears that while many of us felt it, not all did, with some readers saying they did not feel anything.
Update 2:26pm: We are aware of the photo of the rock from Horseshoe Bay circulating, with some saying it split due to the earthquake, while others say it was like that before. We do not have any official confirmation of it either way at this time.
Update 2:37pm: Statement from Government:
4.4 Magnitude Earthquake 50 miles west of Bermuda

At 12:50 p.m. the Bermuda Weather Service (BWS) received a phone call from the West Coast Alaska Tsunami Warning Centre, indicating that there was a 4.4 Magnitude Earthquake at 1538 UTC (1238 local time), estimated to be 50 miles west of Bermuda.

It was reiterated at the time that there was no tsunami danger, and the BWS quickly went about the business of alerting the relevant authorities to that fact, in addition to updating the www.weather.bm website, the Bermuda Weather Channels on the cable providers, and the automated phone tapes. In addition, the BWS was directly in touch with members of the public who called in to make reports directly.

It should be noted that there were no official tsunami information statements, alerts, watches or warnings issued as a result of this event; there would not routinely be any urgent messages forthcoming for such a small magnitude earthquake, regardless of how close to land it occurs.

Dr. Mark Guishard, Director of the Bermuda Weather Service says: "During this event we were in touch directly with RCC Bermuda Radio, the Bermuda Police Service, the Emergency Measures Organization, and the Department of Airport Operations. More information on the confirmed magnitude and location are available via the US Geological Survey's website, http://earthquake.usgs.gov/earthquakes/recenteqsww/."
Update 3:04pm: We are not getting many reports of damage, however if you believe anything was damaged in your home/office due to the earthquake please feel free to email us a photo at info@bernews.com
Update 3:30pm: As many know there is a photo of a rock circulating which some people said was split today due to the quake, however many refute this and say it was like that before. We visited Horseshoe Beach, and according to those there [staff at concession area etc], the rock was like that before the earthquake.
Update 4:03pm: We stopped by and spoke with Bermuda Institute of Ocean Sciences [BIOS] director Dr. Tony Knap about today's earthquake. BIOS opened a seismic station to begin monitoring earthquake activity in this region of the Atlantic in 2002.
Update 4:26pm: According to Dr Knap, equipment used to monitor earthquakes or seismic activity is now digital format. The two photos show the equipment located at BIOS that report activity to USGS on a constant basis. The equipment has a redundancy battery power supply if the electrical power should go off. A modem uses an internet connection to supply collected information to the USGS. Outside is a box cover to the sensor which is located down a hole underground. It is not uncommon for this equipment to register activity from other parts of the world, Mexico being an example.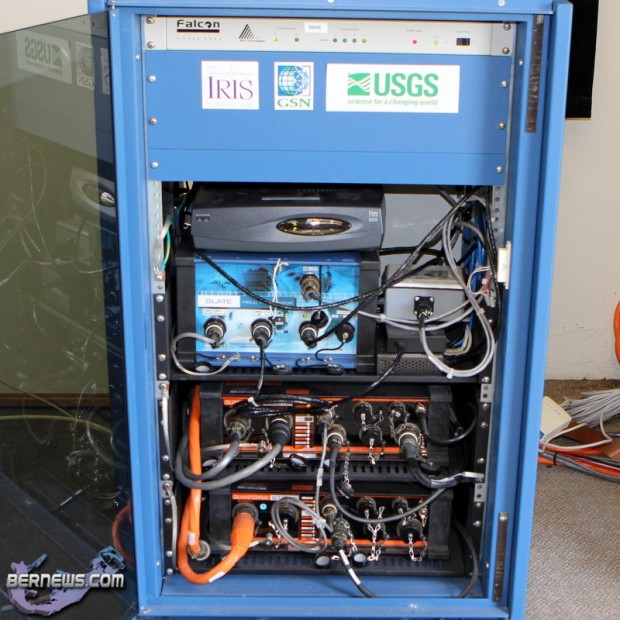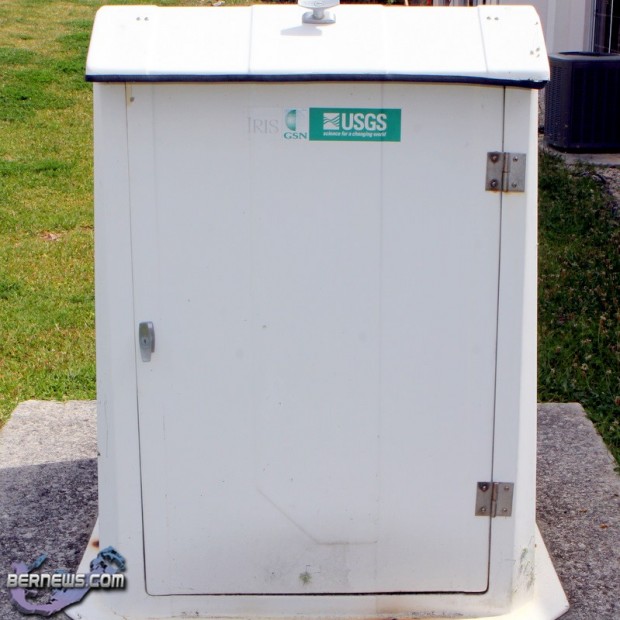 Update 5:12pm: An update on the "rock at Horseshoe Beach" situation. Minister Wayne Perinchief responded to claims that the earthquake caused significant damage to a rock at Horseshoe Bay: "I have consulted with the Department of Parks and it has been confirmed that while most of the damage is from Hurricane Igor in September 2010, it is believed that a piece of rock may have shifted today."
The Minister also said "While this sort of experience is a unique one to the people of Bermuda, it is vital that we do not cause mass panic amongst ourselves."
Update 6:13pm: Local officials continue to report it was a 4.4 magnitude earthquake, while overseas agencies report it as either a 4.5 or 4.6.
Update 8:40pm: An interactive Google map of the earthquake location, with data from the U.S. Geological Survey:
Read More About