Yesterday [Dec 17] the Minister of National Security Michael Dunkley recognised Esso Bermuda as the latest sponsor of the "Neighbourhood Watch 2.0" initiative.
With a donation of $3,000 Esso Bermuda will assist the neighbourhood watch groups in the areas of Wellington Back Road and Hidden Valley St. George's.
Representing Esso Bermuda at today's presentation was Mark Fields, Lead Country Manager. Also on hand were east end area MPs Nandi Outerbridge and Kenneth Bascome.
From left: MP Kenneth Bascome, MP Nandi Outerbridge, Esso's Mark Fields and Minister Dunkley: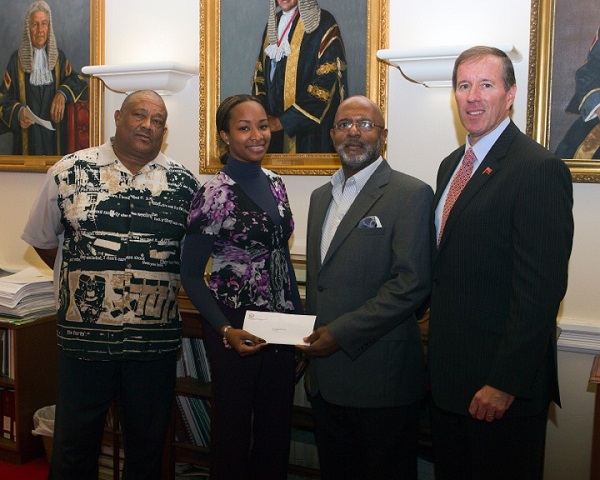 "Neighbourhood Watch 2.0" is designed to enhance the present Neighbourhood Watch Programme by using technology to connect neighbours and their communities.
"Neighbourhood Watch 2.0" notifies residents via voice call and text messages providing real time communication for area residents. According to the Minister it is considered a critical tool in the fight for safer communities.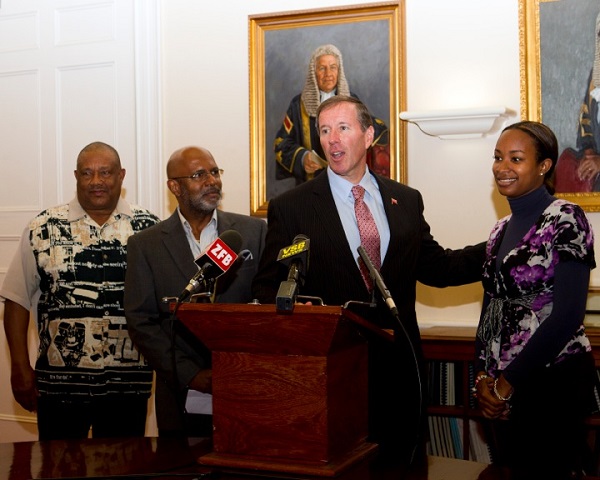 Minister Dunkley explained that when it was launched in October, the objective was to provide Neighbourhood Watch 2.0 to residents at no charge by launching a corporate sponsored adopt-a-neighbourhood campaign. And today, Esso Bermuda is the latest organisation among dozens who have signed up for the public, private partnership initiative.
Thanking Esso Bermuda for their contribution, Minister Dunkley said, "Esso has kindly offered to sponsor a neighbourhood group in the East End, and we are very grateful for their donation."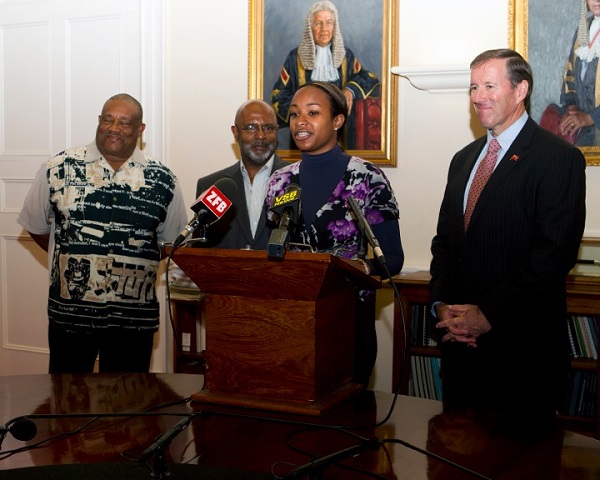 He continued, "Each member of the community can play a role by getting involved in their neighbourhood. Cooperation, participation and partnerships are paramount for the betterment of our community. For us, not only do we see Neighbourhood Watch 2.0 as a way to keep our communities safe, but we also see it as a way to bring communities together.
"The mechanisms which are used to send out alerts if something's wrong are the same communication tools residents can use to share information about any kind of neighbourhood event. So we see this as an important instrument to connect our families, our neighbours and our communities."
Mr. Fields added, "When we heard about the programme we knew we had to get involved. We are based in St. George's and we realized that we owe it to the East End to do our part to take care of them."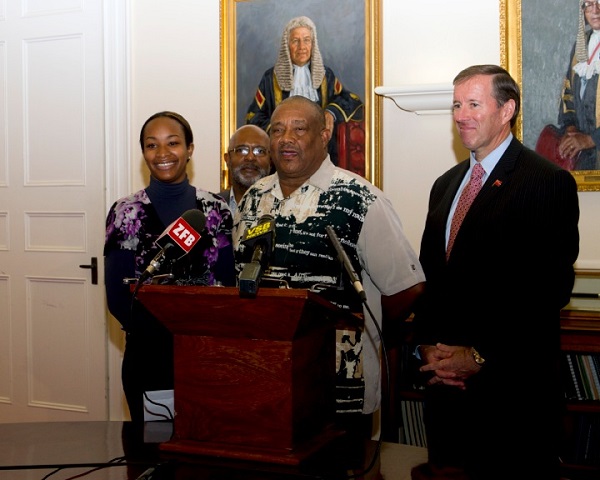 Both Mrs. Outerbridge and Mr. Bascome thanked Esso and Mr. Fields on behalf of their St. George's constituencies and said they look forward to doing their part in providing safer communities in the East End.
In addition to private sector organisations, "Neighbourhood Watch 2.0" is also sponsored by the Ministry of National Security, Bermuda Security Group and BAS Group of Companies.
Read More About