[Updated with slides] The PLP continued their series of Town Hall meetings on the Spending and Government Efficiency [SAGE] report with a public forum at the St George's Cricket Club last night [Dec 4].
The recent SAGE Report recommended a raft of cost cutting measures including raising the retirement age to 68, possible privatization of some services, reducing the House of Assembly from 36 to 30 seats and closing all post offices but three and reducing staff.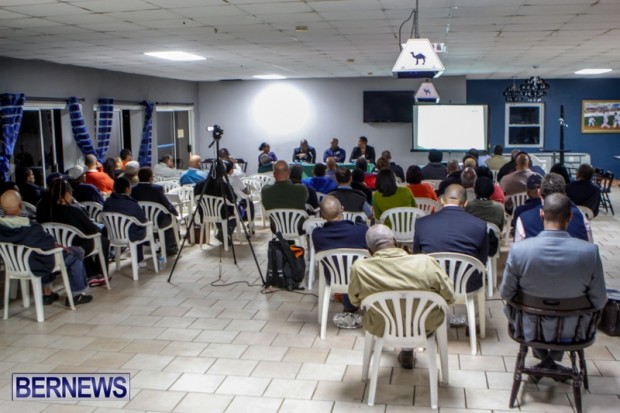 The SAGE Commission said expense reductions in the first year should equal $65 million; in the second year $80 million; in the third year $85 million; and in the fourth year they should equal $90 million.
The panelists were Senator Renee Ming, MP Rolfe Commissiong and MP Walter Roban, and St David's MP Lovitta Foggo served as moderator.
Slide presentation made by Mr Roban during the meeting, click arrow to move to next slide:
Those present in the audience included Opposition Leader Marc Bean, Deputy PLP Leader Derrick Burgess, PLP MP Michael Scott, PLP Senator Diallo Rabain, former Premier Paula Cox and former OBA MP John Barritt.
Mr Commissiong reiterated something previously said by MP Dennis Lister that if the majority of the suggestions in the SAGE Report were implemented, it could result in the reduction of the Government workforce by approximately 1,700 – 2,000 workers.
Slide presentation made by Senator Ming during the meeting, click arrow to move to next slide:
After the presentations from the panelists the floor was opened for attendees to provide feedback. The first gentleman who spoke, who wanted to be clear he was speaking for himself not the party, said we need income tax.
Another gentleman said the healthcare system needs to be looked at as health insurance costs can be problematic, while another lady suggested luxury tax saying many executives buy multiple boats indicating they can afford to pay tax on such luxuries.
47 minute video of the initial presentation:
33 minute of the the first part of the Q&A portion:
Read More About