The short film Dimensions, written and directed by Bermudian filmmaker Neysan Sobhani, has been taking the world by storm for a year, earning accolades from a variety of sources and paving the way for two follow-up films to be released in the future.
Starring an all-Bermudian cast, Dimensions attempts to explore the deep concept of time and our place within it, along with feelings of belonging, grief, and direction in life.
Drawing its inspiration from many sources, including the Baha'i writings, the film attempts to explore just how deep are the bonds that tie us together, and how tenuous are our emotional attachments and the motivations that drive our feelings of joy and grief.
Shot entirely in Beijing, China, the concept and delivery style of the film is experimental, utilizing subtitles in order to portray the 'silence' of the characters, allowing the words on screen to find their own voice in the viewer's mind.
Dimensions is dedicated to the late Mr. Jordy Walker, a well-known and beloved Bermudian who was active not only in sports and architecture, but also in local community affairs.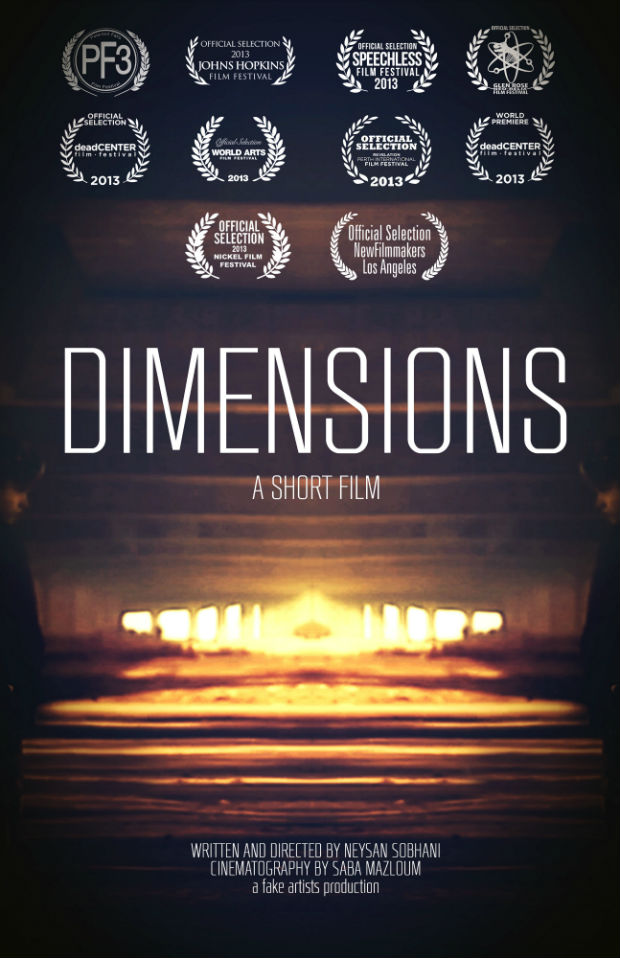 It has been exactly one year since this experimental short film made its way onto the festival circuit, garnering 21 Official Selections and two Best Short Film awards at various major International Film Festivals in five countries, including the Chicago Short Film Festival, Perth International Film Festival, DeadCenter, San Francisco International SF Festival, Miami Short Film festival, Philadelphia FirstGlance SF, Utah Arts Festival, Costa Rica Film Festival, the NewFilmMakers series in Los Angeles, and many others. 
Dimensions was also made an Official Selection at the Waterfront Film Festival, which is sharing top billing with Sundance and Cannes as one of the top five film festivals by the prestigious Screen Actors Guild.
After winning "Best Experimental Short Film" in mid-2013 at the Fastnet International Short film festival in Ireland, the film went on in late November 2013 to win the "Best Short Film" accolade in Los Angeles at the acclaimed Noor International Film Festival.
Other memorable highlights include being nominated in seven categories at the World Music & Independent Film Festival and having the film screened at the AT&T center in Los Angeles as part of the celebrated NewFilmMakers Series L.A.
After filming and post-production was complete, the film's creator received the permission and blessing of Grammy Award-winning artists Macklemore & Ryan Lewis to use the backing soundtrack heard in Dimensions. Macklemore's track is highly critical to the film.
Upon the film's completion, it was also promoted and featured on Macklemore's official website, serving as a testament to the generosity of spirit of the hip-hop group that they were willing to support others in their creative endeavors.
Now, a full year after its first showing, Neysan Sobhani has partnered with filmmakers SoulPancake to release Dimensions internationally, making it available to all via popular video website YouTube.
Watch Dimensions in full below:
Read More About
Category: All, Entertainment, Films/Movies, News