[Update: Less than 24 hours after his transfer was announced, Bermudian Nahki Wells makes a massive debut in the Championship League.
After coming on in the second half, Wells scored in the very final minute of the game to make the score 1-0, earning Huddersfield the win and their first three points of 2014.
After the game Wells said he was "delighted" to make a good start, while Huddersfield's manager said that he "provided the moment of the game and finished the chance superbly".]
Nahki Wells is making his first ever appearance in the Championship League today [Jan 11] after being brought on for Huddersfield Town in the second half of today's game against Millwall.
About 20 minutes into the first half, Wells came off the bench to warm up, with the Huddersfield's Twitter account saying he got a "great ovation".
At the beginning of the first half, Wells changed his warm up shirt for the team's blue and white striped shirt, receiving loud cheers from the crowd, who are all waiting to see their record signing player in action. He came on the field a few minutes later to what was said to be a "massive applause." The score is 0-0.
Nahki Wells arriving for the game today: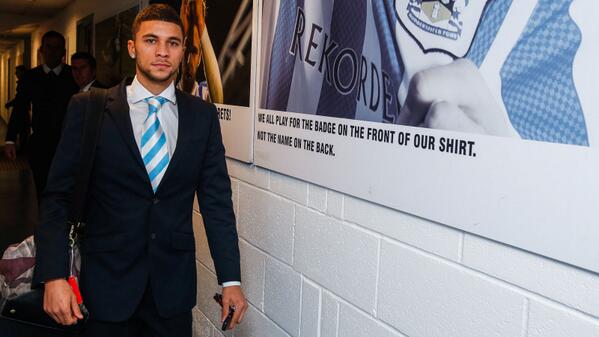 Wells was transferred yesterday from League I team Bradford City to Championship side Huddersfield Town, who paid a new club record transfer fee, breaking their old one of £1.2 million [$2 million] set in 1996.
This is the highest transfer fee ever paid for a Bermudian footballer, and makes Wells the island's first "million pound footballer."
Speaking after the transfer yesterday, the 23 year old Bermudian said: "To get everything signed and over the line is a massive relief; it has been a long day but it was well worth it.
"It is a new chapter in my career and I can't wait to start doing the business for Huddersfield Town.
"It was important that I picked my next club carefully, where I could develop my trade and I felt that Town offered me what I wanted. Mark Robins impressed me and he felt that I had a lot to add to his side. Town play good football and create a lot of chances, which is perfect.
"As a striker he can relate to me and can see my attributes. Hopefully I can learn a lot from him and develop."
Wells warming up before the game: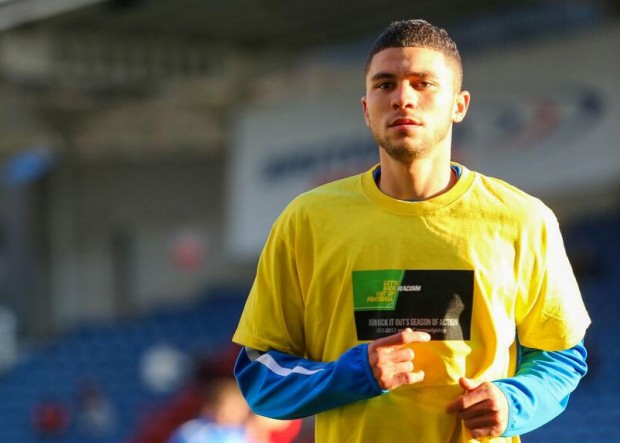 "I want to play in the Premier League, but it is about making the right steps. Huddersfield is an important step in my career," Wells continued.
"It is a step up from the league that I have been playing in and I want to prove that I am good enough to play in the Championship. Promotion is still well in reach for the Club this season, but if it doesn't happen, we will go again next season."
"I love Bradford to bits, they did everything for me. I wanted to end my time with them on good terms because I want to be welcomed back in the future.
"They gave me an opportunity and I enjoyed some unbelievable moments with them. I hope they remember me for the right reason and I wish them all the best for the remainder of the season."
"I am fit enough to play some part. I haven't trained for a couple of days though, but hopefully I will get some time on the pitch."
Update 1.00pm: Wells scores the game winner! After coming on in the second half, he scores in the final minutes of the game to make the score 1-0, earning Huddersfield the win in the 89th minute!
Update 1.09pm: Tweet from Huddersfield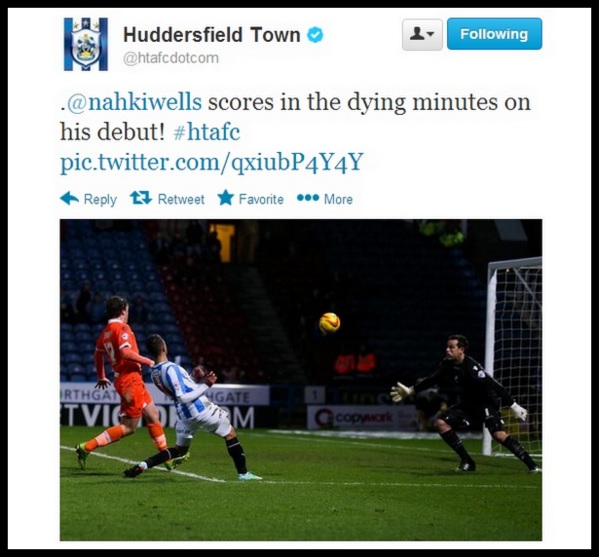 Update 1.11pm: Quick praise is being given on social media by Bermuda's two other professional footballers. Jonte Smith tweeted "90th minute winner… You couldn't write a better story", while Reggie Lambe tweeted using Wells screenname, saying "this guy is unreal."
Update 1.21pm: Huddersfield tweeted this photo below of Wells celebrating his goal.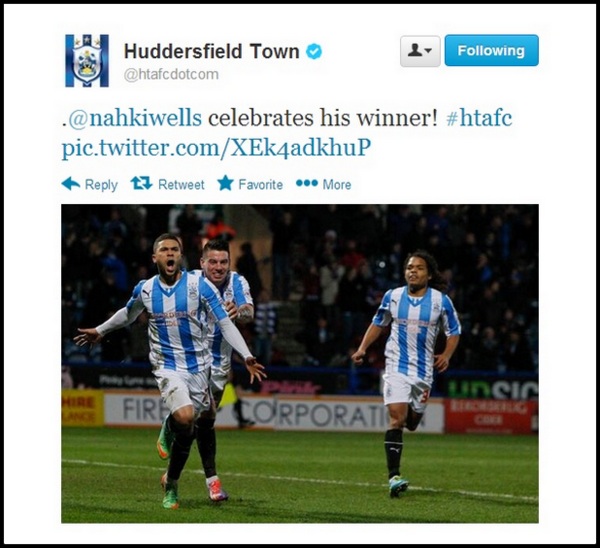 Update 3.10pm: "I'm just delighted to get off to a good start," Nahki Wells said after the game, according Huddersfield's website.
"I think the most important thing was to get three points. I wanted to get off to winning ways on my debut and fortunately enough we have done that.
"I didn't get home until late as we were dealing with paperwork until around 8pm, but luckily I got a good night's sleep. I was fortunate enough to be given the opportunity to come for my debut and to get a goal."
"This is a big step up for me and the most important thing is that I've come here ready to learn and get better. I know my strengths and weaknesses and one of my strengths is scoring goals. Luckily a chance dropped to me.
"I'm coming into a side that plays 'total football', passing the football a lot. This means that a lot of my habits will have to be broken; I prefer to play off the shoulder, but a lot of the time I will have to come and link up play and get involved with the game in order to fit into this team. That will come with time, because I'm confident that my hard work will see this happen."
"This Club has a good squad and is moving in the right direction. I'm 23 and I will be near the average age of the side today. There are a lot of young players here who have ambitions on making it high.
"I didn't want to take the wrong opportunity and hinder my success. I've come to a Club where the Manager has a lot of faith in me; he believes in what I have to offer. He gave me the opportunity today and I'd like to thank him for taking a gamble on somebody who has, until now, only played in the lower leagues.
"I'd also like to thank Dean (Hoyle) for giving me the opportunity to move to this Club, as well as all the fans that supported me."
"I'm looking forward to starting a full week of training on Monday and getting back in the flow of things, as I didn't manage to train at all this week. It was a bit 'off the cuff' to come on today for 40 minutes and do the best I can and I'm thankful that I've come out of it injury-free with three points in the bag."
Wells celebrating his first goal, photo courtesy of Huddersfield: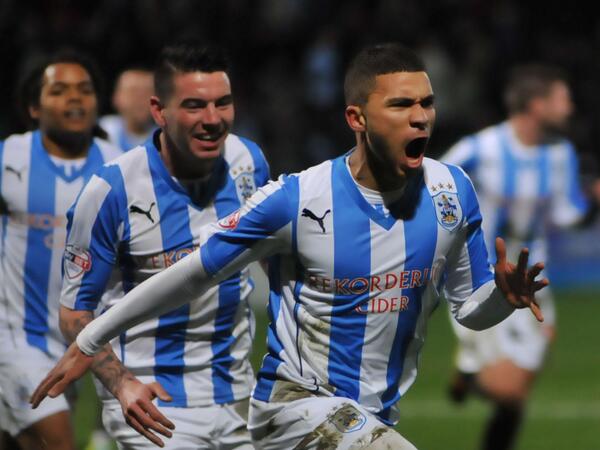 Update 3.16pm: Speaking about Wells after the match, Huddersfield manager Mark Robins said: "He provided the moment of the game and finished the chance superbly; it was a real goal scorer's finisher.
"We are delighted to have him and I am looking forward to working with him. People used to say that I didn't do anything apart from score goals and if he does that for me, I will be delighted.
"He is only 23 and I believe that we can enhance his potential and make him worth more than his current value. We aren't getting carried away and we will see how it develops."
Update 7.42pm: The audio of Wells post-match interview is below, with BBC Radio Leeds' Paul Ogden speaking to Wells about scoring the winning goal on his debut, as well as team manager Mark Robins.
Update Jan 12, 9.17am: The video of the match highlights is below, including Wells goal
Read More About