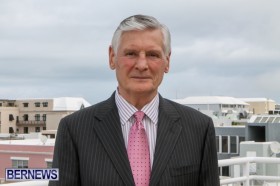 Saying he does not wish to take sides in the recent labour dispute, Bermuda Tourism Authority CEO Bill Hanbury urged all those concerned to "think of the big picture," saying they have already had "emails from potential investors expressing concern."
After the Fairmont Hamilton Princess laid off 10 workers, five of whom were BIU members, a labour dispute erupted which resulted in a temporary shutdown of the island's public transportation system.
Mr. Hanbury said, "We are very pleased to hear that The Fairmont Hamilton Princess and the Bermuda Industrial Union have come to an agreement this morning.
"I recognize that the Bermuda Tourism Authority [BTA] is a new entity and I am also new to the island. It would thus be wrong for me, or the BTA, to take a position in the recent labour dispute.
"Our role is not to interfere, in any way, concerning labour and management issues. However, our role is most definitively to act as a voice for tourism. Our purpose is to reverse the almost 30 years of decline in tourism, to bring new investment, new experiences and most importantly new jobs to the people of Bermuda.
"Any time that we have disruption to our services and, more importantly, any time that such disruption attracts the attention of the media, it is bad news for tourism. Stability is the watchword of tourism.
"Tourists do not want to visit any destination where there is instability. And investors do not want to put their money into projects that are in a destination that shows any instability.
"In the last few days, Bermuda's labour unrest has been seen in the world's media. We have already had emails from potential investors expressing concern," added Mr. Hanbury.
A video news report about the dispute from the Barbados media, who obtained footage of the march:
"Thousands of potential visitors have been considering where to go on holiday over the next few months and have been viewing competitive destinations to make their choice. Certainly a destination with major disruption is not a place that prospective tourists will choose for their holidays.
"I want to reiterate that I do not wish to take sides in the recent dispute. I must, however, urge all those concerned to continuously think of the big picture, to understand the real and significant impact that negative headlines can have internationally.
"Our Island needs all the help it can get. For months the BTA Chairman has been saying all of Bermuda needs to be part of the tourism team.
"These negative headlines around the world are not a testament of a unified tourism team. We need unification and cooperation if we are going to have the beginning of a much needed recovery of Bermuda's tourism economy."
You can view all our coverage of the labour dispute here.
Read More About