The talented team from Bermuda's Burnt House Productions are making their international mark, having recently traveled to South Africa in order to film an adventure video for EpicTV.
Andrew Kirkpatrick and Mike Wilson traveled to South Africa at the request of EpicTV after their Falling Off the Rock video series caught the attention of the company.
The video showcases a group of extreme sports enthusiasts jumping from a sheer cliff attached only to a bungee cable.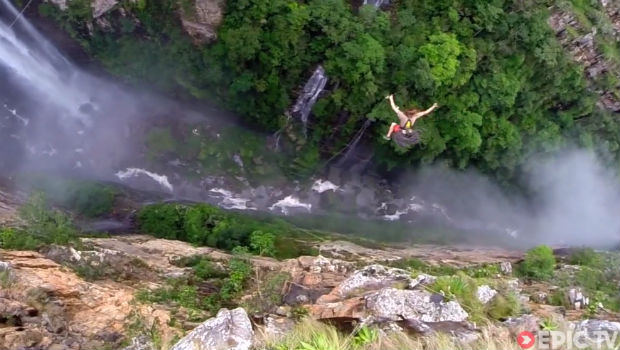 The cliff itself, located at South Africa's Magwa Falls, is incredibly high, presenting a challenge to even the most experienced of jumpers, but the video shows a group of men and women fearlessly leaping into the canyon below the falls as local men, women, and children look on in wonder.
In order to facilitate the Magwa Falls jump, the team set up a 600 foot rope swing bungee over the huge canyon, providing both safety for the jumpers and the ability to obtain incredible footage of the event from a variety of angles and perspectives.
EpicTV is an online extreme sports channel that specializes in producing original free web series covering activities such as skiing, snowboarding, surfing, mountain biking, climbing, BASE jumping, kayaking, wingsuit flying, and more.
The French web company has partnered with hundreds of athletes and filmmakers in order to document cutting edge stunts and adventures in locations around the world, and has garnered some 200,000 Facebook fans and over 70,000 Youtube subscribers.
Burnt House Productions was commissioned by EpicTV to create four extreme sports videos, with three more entries set to be filmed in the coming months.
Read More About