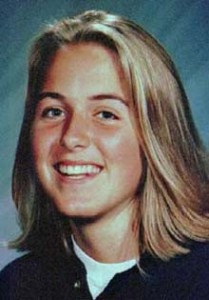 Following confusion surrounding the immigration matters with an overseas film crew, Home Affairs Minister Michael Fahy has clarified that they weren't refused work permits, they actually didn't apply for them.
Speaking in the Senate today, Minister Fahy said, "The Middleton film crew were not denied work permits.
"Rather, they had not applied for any permits in the first instance – which is what they should have done."
He said the matter was brought to him at a standing Immigration meeting on March 20th for consideration as a result of there having been no work permit applications made.
"I made the correct determination during the meeting that temporary work permits must be applied for – which requires a ten day lead time," said Minister Fahy.
The filmmakers are planning to travel to Bermuda to film a documentary for Discovery ID about the tragic murder of Canadian visitor Rebecca Middleton [pictured], which occurred in July 1996.
The 17 year old was raped and killed while vacationing on the island, and the handling of the case has been widely criticized both locally and overseas, and the Middleton family and their supporters have campaigned for many years for justice to be served.
Speaking to the Vancouver Sun a few years ago, Rebecca's father David Middleton said, "Everything that could go wrong did go wrong. This 'double jeopardy' rule got us all hung up and we couldn't do anything.
"I am appalled at the Bermuda police and prosecutors because in any jurisdiction around the world, they would fight to see the perpetrators brought to justice. It hasn't happened here."
"We had a great family and a great life. I choose to remember that. I don't forget what happened to Becky, though," said Mr. Middleton. "I am able to get along on a daily basis. I guess that is as close as I am going to come to closure."
Read More About