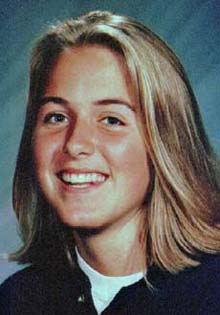 Today [July 3] marks 20 years since Rebecca Middleton was murdered, with her family recently taking time to reflect on her life on what would have been her 37th birthday, and saying that she may not be with them, but she's "still part of the family."
The 17-year-old Canadian was raped and killed while vacationing on the island, and the handling of the case has been widely criticized both locally and overseas.
Canada's CTV news spoke with her family, with their report saying "Rebecca Middleton's family members celebrated what would have been her 37th birthday this past Monday with a cake, two decades after the Belleville, Ont., woman was raped, stabbed repeatedly and left to die on the purported island paradise that is Bermuda.
"She's still part of the family; it's just that she's not with us," Dave Middleton says of his late daughter. "It wasn't her fault that she got killed."
"Cindy Bennett says she still misses her daughter. She wonders what her girl might have been like now had she, like her two older brothers, been able to grow up, get married and have kids of her own.
"The 20 years that have passed — it makes every memory of Becky sweeter," Bennett, 64, says. "Still in your gut, it feels like this just happened."
"The two men charged in the killing were Kirk Mundy, then 21, and Justis Smith, then 19. At the time, Mundy was on bail for the armed robbery of a bank vehicle in November 1995, a crime for which he would later be given a 16-year sentence.
"Mundy pointed the finger at Smith. In exchange for his testimony, Mundy pleaded guilty to being an accessory, while Smith faced a charge of murder. DNA evidence would later show Mundy had raped the teen.
"What followed were a series of futile attempts to retry Smith that were ultimately rejected by Britain's Privy Council on the grounds he had already stood trial once. Bermuda authorities would later concede the family had suffered a "great injustice," but nothing changed.
"In some small ways, however, Rebecca Jane Middleton lives on," CTV reported. "One of her brother's daughters has Rebecca as a middle name. Her other brother's daughter has Jane as a middle name. Meens would also give her daughter the middle name Rebecca, while the man who found Middleton named his daughter Becky. Scholarships in Belleville and Bermuda bear her name."
Read More About