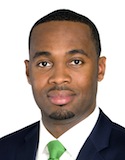 Shadow Finance Minister David Burt responded to the Premier's comments this evening [Mar 2], saying that the Premier's "divisive response" does nothing to help Bermudians, and that they "continue to rely on an outdated international business model which has been profoundly impacted by globalisation."
Premier Craig Cannonier said the PLP Budget Reply "has taken an approach to the economy that is dangerous, irresponsible and a recipe for paralysis in the face of immense pressures…"
Mr. Burt said, "Last year Bermuda's Economy lost 921 jobs. Last week more Bermudians lost their jobs as their positions were outsourced.
"The Premier's divisive response to the PLP's Budget Reply does nothing to help those Bermudians who have seen their jobs vanish under the OBA and provides no comfort that the Premier actually understands what is going on in the Bermuda economy.
"The Premier's time would be better spent talking to Bermudians and understanding the struggles they are facing, not hiding behind press releases and ducking questions.
"Rather than the conciliatory approach taken by Minister of Finance Bob Richards, the Premier, who must be feeling the pressure of poor polling results, has taken to attacking the ideas we put forward instead of defending his own plan.
"Therein lies the problem; the OBA have no plan to diversify the economy, and continue to rely on an outdated international business model which has been profoundly impacted by globalisation.
"Every month, Bermudians continue to see their jobs outsourced and, rather than face the facts, the out of touch Premier attacks the PLP for proposing alternatives while the OBA has none.
"Nowhere did the PLP call for corporate income tax, but that didn't stop the Premier from inventing this fiction and shamefully peddling it to the people of Bermuda.
"The Premier's inability to keep his stories straight is laid bare in his own statement where he contradicts himself; in one sentence when he says the PLP are for spending cuts but want to spend more!
"The PLP's alternative budget is a balanced approach that proposes $100 million in combined spending cuts over the next two years with smart investments in education, training, and alternative energy.
"We have proposed additional regulations for our banks to clamp down on unfair fees and the creation of a 'Bermuda Fund' to invest in new industries that will create new jobs in Bermuda.
"We encourage the people to read the reply [PDF] and judge for themselves. As the Opposition, we have taken the time to put forward ideas for debate and, while we do not expect the Premier to accept them all, he should at least give factual information to Bermudians.
The people of this country deserve a higher standard of leadership than what is being offered by our divisive Premier; they should expect that they can trust the Premier to issue a press release that contains the truth.
"We have big issues to deal with in the country, and the Premier's misleading and divisive statement does nothing for the hundreds of Bermudians who have seen their jobs vanish under the OBA," concluded Mr. Burt.
Read More About