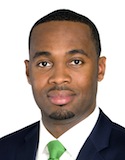 David Burt has tendered his resignation as the Shadow Minister of Finance, however will remain as an MP and Deputy Leader of the PLP.
Mr Burt said, "Earlier today I tendered my resignation as the Shadow Minister of Finance to the Opposition Leader. I will continue to serve my constituents in Pembroke West Central and look forward to holding the OBA Government accountable in both Parliament and on the Public Accounts Committee.
"I remain Deputy Leader of the PLP and will work to ensure the PLP continues to promote policies that are truly progressive, pro-worker and pro-Bermudian.
"I believe a unified PLP is the best option for the next Government of Bermuda, in clear contrast with an OBA that is painfully out of touch with Bermudians and has the wrong priorities and policies for our country.
"I will be spending more time on the doorstep this weekend speaking to the constituents that I have the honour to represent in Parliament. I hope that you all have a great weekend with your families."
Update: This now brings the PLP's Shadow Cabinet to eight people, as it follows after the reduction in December 2015, which saw it decrease from 15 to 9 members.
Read More About