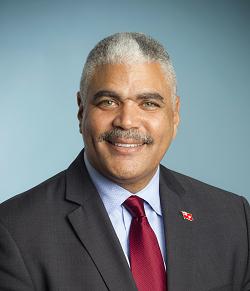 "The PLP leadership, in its Budget Reply on Friday, has taken an approach to the economy that is dangerous, irresponsible and a recipe for paralysis in the face of immense pressures to grow the economy and get our financial house in order," Premier Craig Cannonier said this evening [Mar 2].
"I say it's dangerous for two reasons.
"The first is the Opposition Leader's idea to introduce corporate income tax – a change that would fundamentally alter the relationship between the Island and international business.
"It would create uncertainty in Bermuda's business equation at a time the Island needs to be stable and promising so business can generate the kind of activity Bermudians need for jobs and our service industries need for business.
"Mr. Bean's proposal also would create knock-on effects. Income tax, which we have never had, would require, as my colleague Finance Minister Bob Richards said Friday, an "army of civil servants" to monitor compliance – this at a time when we need to reduce the cost of government that costs us hundreds of millions of dollars more than we take in.
"The second reason there is danger lies in their call for online gaming – an electronic-based industry that creates grey opportunities for money laundering. It is difficult to monitor, difficult to regulate and difficult to know who's involved.
"In short, online gaming is regarded as a risk to the Island's reputation as a safe, responsible and reliable jurisdiction – a reputational risk to a country whose reputation as a blue ribbon financial centre is all-important.
"Now, in describing the PLP leaders' approach to the economy as irresponsible, two things come to mind," continued the Premier.
"The first lies in their call to end long-standing tax concessions to the retail, hospitality and restaurant industries. Any Bermudian working in these industries should be very concerned because this proposal is a job killer.
"Let's put aside the fact that concessions were extended to these struggling industries by the previous PLP government to protect Bermudian jobs. Nothing has materially changed in their situation. For these industries, the hard times continue and until the general economy grows, the concessions should remain.
"The second reason I consider the PLP Budget Reply to be irresponsible is in its call to legalize marijuana so that Government can realize the revenue benefits. This position makes me think of that wise old warning: "Look before you leap."
"There are too many potential pitfalls for Bermuda to hastily move to legalization, whether it be the impact its use may have on our people or in the challenges such a move would create with jurisdictions with whom we do business.
"The Government is taking a deliberate approach to the issue of decriminalizing marijuana. This is not a simple issue. We are currently preparing a public consultation paper, as promised in our November Throne Speech, to inform the community of the competing research on this drug, its uses and the potential impact any shift in policy might have on the Island.
"Let's have a good look before we leap.
"My final concern with the PLP leaders' Budget Reply is its failure to adequately address Bermuda's two most urgent needs: the need for economic growth to generate jobs and the need to reduce the cost of government.
"The PLP would have us pursue deep-sea mining and offshore fishing, among other things. While we can agree that there is potential in such undertakings, including a more diversified and thus less vulnerable economy, these proposals will not provide meaningful relief to Bermudians now or any time soon.
"The Government's focus is to make it possible for the Island's existing industries to grow, providing jobs Bermudians need now. That is why we are opening doors of possibility for existing industries.
"The PLP Budget Reply also fails to truly recognize we have a serious problem with public finances, specifically the cost of government and the size and cost of our debt.
"Let's be clear about the challenge: We are trying to slow the momentum behind government spending deficits that has been building for years. This past fiscal year, we spent an estimated $333 million more than we took in.
"This year we managed to cut that deficit nearly 20%, but that still leaves us with a deficit forecast at $267 million. Without continued drastic action, we will near the end of our rope. The Government is taking the most aggressive line possible to ensure Bermuda gets to a more secure and sustainable position.
"In the face of this serious situation, the PLP leaders' would hedge that line, paralyzing us between actions needed and procrastination. Yes, they're for spending cuts but they also want to spend more, millions more.
"The Government on the other hand is sticking close to a simple fact of life: You can't spend more and cut the deficit. You can't spend more and pay down the debt.
"Bermuda needs to take a clear, hard line to reach the twin objectives of growing the economy and getting our financial house in order. That's what we're doing. We're making it possible for existing industries to create the jobs people need.
"We're paying down the debt and shrinking the deficit to protect Bermudians today and future generations. And we're doing it all without resorting to new or rising taxes.
"The PLP Budget Reply falls short of what Bermuda needs today. It fails to impose the discipline we need, and does not provide a plan to grow the economy now," concluded the Premier.
Read More About