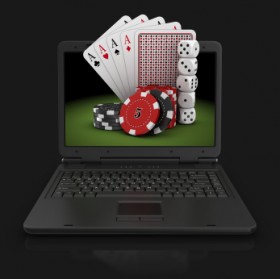 Online gaming is a $35 billion global industry, and Bermuda already has the infrastructure to be player, Shadow Finance Minister David Burt said in the Opposition's Reply to the Budget in the House of Assembly on Friday [Feb 28].
Mr. Burt said, "It is imperative that we implement additional aspects of gaming besides casinos.
"Last year, online gaming provided over $80 million in tax revenues and directly supported 2,600 jobs in our sister overseas territory of Gibraltar.
"Online gaming is a $35 billion global industry, and Bermuda already has the infrastructure to be player.
"Just as other countries are trying to gain a foothold in some of our industries it is time for Bermuda to do the same.
"For the sake of the jobs it can create and the tax income that can be generated, we urge Government to move forward with creating an online-gaming industry in Bermuda," added Mr. Burt.
A 2010 report [PDF] from the KPMG International Cooperative, a Swiss entity, said: "The online gaming market represents one of the fastest growing segments of the gambling industry.
The KPMG report said the online gaming market is composed of a number of different types of games including sports betting, online poker, casino games, online bingo and online lottery.
According to the Wall Street Journal, only New Jersey, Nevada and Delaware allow online gambling in the United States, and global online-gambling revenue, driven by betting in Europe, last year reached an estimated $35.4 billion, or more than five times the gambling revenue of the Las Vegas Strip.
New Jersey recently started allowing online gambling, and according to their records [PDF] revenue totaled $8.4 million for the five weeks since its launch in November 2013, which Bloomberg said added $1.2 million to the state's coffers.
New Jersey Governor Chris Christie has been criticized for overestimating the amount the state would bring in during the first year of online gaming, having anticipated a $200 million increase in tax revenue,  almost all of it from the legalization of internet betting that began in November.
N.J. State Treasurer Andrew Sidamon-Eristoff conceded that was far too high, and now expects a $34 million rise in casino tax revenue for the fiscal year that ends June 30.
Bermuda has been moving towards less restrictive laws as far as 'brick and mortar' casinos, with a new allowing cruise ships to keep their casinos open at night while docked in Bermuda passed late last year,  and the matter of amending the law to allow casinos expected to be decided by a vote in Parliament.
In their reply to the budget, the Opposition also suggested looking at regulating and taxing cannabis to increase government revenue.
Read More About
Category: All, News, Politics, technology