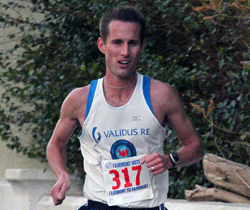 Five-time winner Chris Estwanik has confirmed that for the second year in a row he is unable to compete in the Bermuda Day Half Marathon Derby.
Estwanik said, "I can confirm that I have injured myself and unfortunately will not be able to participate in this year's half marathon derby. While jumping one of the low railway trail barriers a few weeks ago I landed awkwardly and have suffered a fracture in my sacrum [a bone near the base of my spine].
"I have been around running for long enough to know that injuries are part of the risk an athlete takes when competing and pushing one's body to the limit. I was very happy to have not only come back from a tough injury at this time last year, but to have also been running at a higher level than before over longer distances.
"My training prior to the mishap had been going really well and I was very much on target to compete at my highest level in the half marathon derby as well as a full marathon that I was set to run in June. Unfortunately, barring a change in opinion from my doctor and physio, I will not be competing in either race.
"I feel very fortunate to have experienced the thrill of winning the Bermuda half marathon derby all 5 times that I have actually made it to the start line in Somerset and am very disappointing that, for the second year, I will not be competing in this year's race.
"Much like our defending champion Tyler Butterfield has been telling the world lately, Bermuda at large and my experiences here continue to be a huge motivator for me in my training. This, coupled with the support of far too many people to name here, will continue to motivate me on my road to recovery as I still have very lofty running goals to achieve over the next few years.
"I would like to offer my sincerest best wishes to all the competitors who are running this year and will be cheering you all on loudly from the sidelines."
Read More About