Minister of Home Affairs Michael Fahy revealed that the Ministry will donate $5,000 towards the Hamilton Parish Council's newly created scholarship fund.
A spokesperson said, "The public will be aware that as part of its mandate, the Ministry of Home Affairs oversees the island's Parish Councils. Parish Councils have various functions within their respective communities.
"Councils are tasked with bringing to the attention of the Minister any matter affecting the general welfare of residents in the parish, providing and maintaining recreational facilities, preserving and improving the general amenities of the parish, and holding in trust for the residents of the parish parochial funds and other property.
"As it relates to the Hamilton Parish Council donation, Minister Fahy said it is just the start of such support, pointing out that he hopes to donate similar funds to each of the island's Parish Councils that are solvent and well-managed to assist Bermuda's young people."
Left to right: Randolph Smith, Jane Bielby, Minister Fahy, Susan Paynter, and Stanley Williams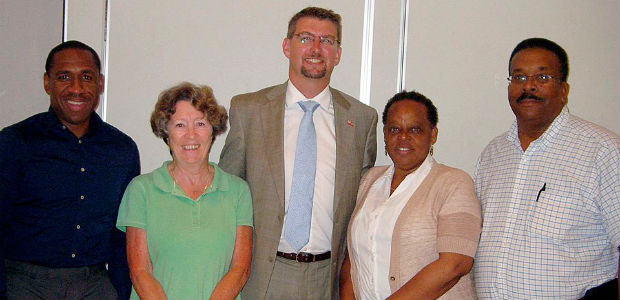 Minister Fahy said, "We recognise that if we are going to help our young people succeed in their educational pursuits, then we must ensure they have access to the financial support to assist them in achieving their goals.
"I see this as a community or grass roots level of support, and I want to commend the members of the Hamilton Parish Council for kick starting this scholarship fund to aid those in need."
The Minister noted, however, that such donations can only be given providing that the Parish Council's financials are current.
The Minister added, "We recognise that the island's parish councils do some tremendously good work for the residents of their community. In fact, their outreach programmes benefit many individuals of all ages. We consider those who manage the councils as partners in our efforts to uplift Bermudians.
"So, we are availing ourselves to assist their community efforts by providing that little extra boost to go towards helping our young people. We also see this as an incentive for the councils to ensure that their financials are in good order, and we are hopeful that we can donate further funds to all of our operational councils."
Read More About
Category: All