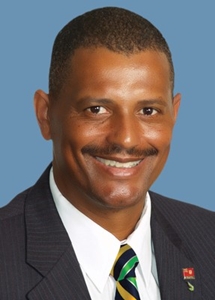 Craig Cannonier's "meteoric 17 month rise to Premier has been riddled with controversy and "his Cabinet and the blindly compliant OBA backbench must take responsibility for their part," former Opposition Leader Kim Swan said following the resignation of former Premier Craig Cannonier.
Late last night [May 19] Craig Cannonier resigned after almost 18 months as Premier, with Michael Dunkley set to be sworn-in as the new Premier later this morning.
Mr. Cannonier had been coming under increasing fire for his actions surrounding the "JetGate" issue, and the OBA inner circle spent this weekend huddled up in emergency meetings, which are understood to have seen Mr. Cannnonier receive heavy pressure to step down.
Mr. Cannonier — who will remain an MP — said "nothing illegal was done, but I accept there was a failure over time to be completely transparent."
Speaking after the resignation, Mr. Swan said, "The resignation by Premier Craig Cannonier signals a tragic conclusion to a political experiment by the Mark Pettingill, Shawn Crockwell, Michael Fahy who among others founded the Bermuda Democratic Alliance out of the United Bermuda Party when the party was looking at options to reform or rebrand.
"Their strategy to hand pick a charismatic non political figure as their leader, which later resulted in them later reunite with the United Bermuda Party to fight the 2012 Election, proved successful as they were able to narrowly win the government.
"MP Craig Cannonier's meteoric 17 month rise to Premier has been riddled with controversy but certainly his Cabinet and the blindly compliant OBA Backbench must take responsibility for their part in a tenure that has run roughshod over the common man, made a mockery of transparency and marginalized Bermudians thus giving rise for marches and protest.
"Lest we not forget that the controversy – Jet Gate – that eventually rocked the Premier centered around Casino Gambling and there is still the outstanding issue of Referendum for Casino Gambling which has spurred a petition to reinstate the referendum for registered voters.
"Ironically, petition activist must now hand over their work to the new Acting Premier Hon. Michael Dunkley who was caught on tape "…..calling it a F'nnnn waste of time"
"The revelation goes full circle and with the removal of now former Premier Craig Cannonier the entire Cabinet is now all former United Bermuda Party MPs, Senators, Cabinet and/or Party Officer[s].
Mr. Swan concluded, "Congratulations to former UBP Leader Michael Dunkley whose long journey from losing the 2007 election and his seat, has now reached its zenith where he now sees himself as Premier of Bermuda surrounded by the virtually the same persons as in 2007."

Read More About