CedarBridge Academy hosted its annual Sports Awards to recognize the sports accomplishments of students who have been successful in events during the 2013-2014 school year.
A spokesperson said, "The sports awards saw students recognized for participating in such sporting events as soccer, badminton, basketball, netball, and athletic events. The Sports Awards, organized by Mr. Dean Minors of the PE department, was hosted by S4 Student Cameron Gordon.
"This year's guest speaker was Keishen Bean, former CedarBridge Academy Student, who spoke on "Finding A Way to Win." He was a very engaging speaker, who addressed the students with stories about his life as a student in college, centering his theme on "finding a way to win." He talked about his college roommate, someone he shared lots of activities with; however, on the soccer field, he expected his roommate to pick him to play for his team."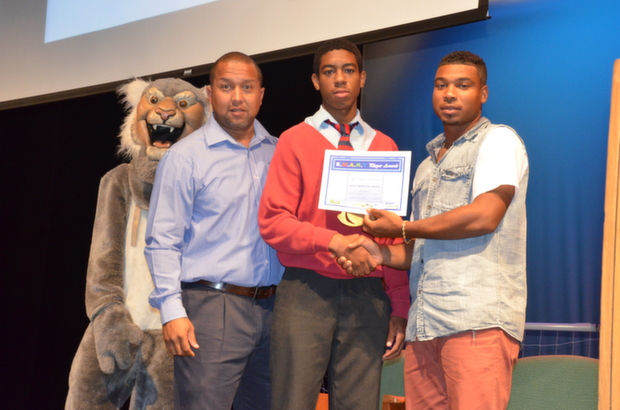 "The coach had a policy, whatever team won, that the best player became captain and could pick his team. Mr. Bean's roommate's team won, making him captain and for eight weeks, yet, despite all Mr. Bean did to prove his worthiness, his roommate, his friend, never picked him.
"One day, during a friendly conversation, he asked his roommate why he never picked him to play on his team. Mr. Bean, a striker, said his roommate explained to him, "I am a striker. I know I can get goals; to win, I need good defense. That is when Mr. Bean understood that it had nothing to do with friendship – rather, it had to do with winning and that you must do what you can, without cheating, to win.
"He ended his presentation by speaking about football games he had at White Hill field, where all players young and old participate. The rule for the game is, as it is getting dark, whoever scores the last goal, wins. Mr. Bean explained how once when he was at the goal, it was getting dark and there was a nine-year-old boy controlling the ball. The boy played for the opposing team and he was heading to the goal."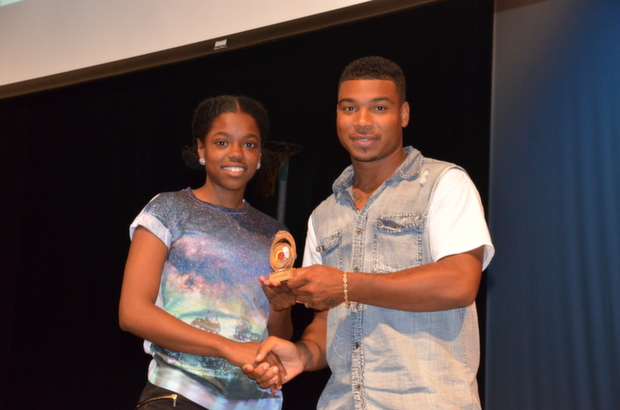 Mr. Bean said, "I had three choices. I can let him go and make the goal and he is happy because he scored a goal; after all, he is nine. His team wins. Or I can defend against him and either he gets the goal or I get the ball away from him, either one of us can win. Or I can make him lose the ball and take it away.
"Which one would you do?" He threw that question out to the audience. "It is about finding a way to win."
"After Mr. Bean's speech, Mr. Dean Minors, instructional leader for the Physical Education, Health and Family Studies Department, invited the coaches of the various sports to come and get their awards."
The CBA Sports Awards winners included:
Varsity Football

Antoine Seaman – Coachable Award

Coach: Dean Minors

James Tyrell – Dedicated Award

Assistant Coach: Zamir Smith, S4 Student

Nasaje Anderson – Most Improved Award
Jordan Casarano – Sportsmanship Award
Machi Battersbee – Most Valuable Player Award

Jr. Varsity Football

Za'Kari Parsons – Coachable Award

Coach: Jason Wade

Mikle Dill – Dedicated Award
Za'Kari Parsons – Most Improved Award
Kenton Ottley – Sportsmanship Award
Aaron Burgess – Most Valuable Player Award

Girls Football

Deshae Darrell – Coachable Award

Mr. LeVar Bassett

Keshunae Robinson – Dedicated Award
Salina Thompson – Most Improved Award
Jaqueena Harvey – Sportsmanship Award
K'Shaela Burch-Waldron – Most Valuable Player Award

Boys Volleyball

Tyler Dill – Coachable Award

Coach: Dean Minors

Earl Lavarias – Dedicated Award
Diallo Donville – Most Improved Award
Diallo Donville – Sportsmanship Award
Quinn Simmons – Most Valuable Player Award

Girls Volleyball

Micah Pond – Coachable Award

Coach: Alfrieda Dill

Maya Palacio – Dedicated Award
Lysmeiri Herrera – Most Improved Award
She'Vaugh Pemberton – Sportsmanship Award
Hashema Heyliger – Most Valuable Player Award

Varsity Basketball

Jah'Nai Perinchief – Coachable Award

Coach: Keedai Astwood & Swayne Raynor

Andy Perez – Dedicated Award
Yabin Jones – Most Improved Award
Elijah Richardson – Sportsmanship Award
Markus Robinson – Most Valuable Player Award

Jr. Varsity Basketball

Ajai Daniels – Coachable Award

Coach: Jahmal Scott

Chinua Smith – Dedicated Award

Assistant Coaches: Keedai Astwood & Swayne Raynor

Tafari Hypolite – Most Improved Award
Jahshua Johnson – Sportsmanship Award
Tyler Dill – Most Valuable Player Award

Girls Basketball

Hadiyah Barnett – Coachable Award

Coach: Alfrieda Dill

Jaqueena Harvey – Dedicated Award
Taahira Butterfield – Most Improved Award
Kalay Hollis – Sportsmanship Award
Maya Palacio – Most Valuable Player Award

Men's Rugby

Anthony Sousa – Coachable Award

Coaches: Mr. Patrick Calow & Mr. Darrin Woods

Amde Butterfield – Dedicated Award
Cedric Ennis – Most Improved Award
Nathan Morgan – Sportsmanship Award
Keyahno Bean – Most Valuable Player Award

Girls Varsity Netball

Keizhari Knight – Coachable Award

Coach: Denise Weekes

Miesha Greaves & Shondreka Scarders – Dedicated Award
Chenzira Eve & Kierra Lee – Most Improved Award
Destynie Mallory & Kenya Simmons – Sportsmanship Award
Taahira Butterfield & K'shaela Burch Waldron – Most Valuable Player Award

Girls Jr. Varsity Netball

Micah Pond – Coachable Award

Coach: Alfrieda Dill

Jordyn Williams – Dedicated Award
Sheltia Dill-Baker – Most Improved Award
Donnauri Robinson – Sportsmanship Award
Demiqua Daniels – Most Valuable Player Award

Girls Cross Country

Pier Simon – Coachable Award

Coach: Mrs. Rodericka Freeman

Symira Lowe-Darrell & Twyila Ebbin-Wilson – Most Improved Award
Twylia Ebbin–Wilson & Azaria Robinson – Most Valuable Player Award

Boys Cross Country

Malachi Johnston – Dedicated Award

Coach: Collin Stewart

Keyshe Robinson & Nasaje Anderson & Tyler Dill – Most Improved Award
Nasaje Anderson & Michaiah Robinson – Most Valuable Player

Boys JV and Varsity Badminton

Delun Fishenden & Quinn Simmons – Coachable Award

Coach: Dean Minors

Keyshe Robinson & Tafari Rayner – Most Improved Award
Jessie Tucker – Best Tournament Player

Girls JV and Varsity Badminton

Jennifer Rego-Sousa – Most Improved Award

Coach: Ms. Alfrieda Dill

Micah Pond – Best Tournament Player

Boys Varsity Table Tennis Team

Terrance Webb – Coachable Award

Coach: Dean Minors

Dawayne Smith & Jordan Casarano – Most Improved Award
Cameron Gordan – Best Tournament Player

Boys Jr Varsity Table Tennis

Jalen Franklin – Coachable Award

Coach: Dean Minors

Kenton Ottley – Most Improved Award
Evan Heyliger – Best Tournament Player
-
Click to enlarge photos:

Read More About